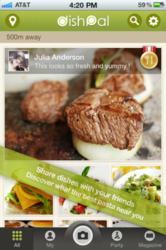 We believe that our app really connects with food lovers, hence its popularity.
SEOUL, South Korea (PRWEB) April 06, 2012
DishPal, a social networking app that allows users to share their favorite dishes with friends, was recently featured in the "What's Hot" section of the iTunes Store in over 100 countries.
"We are honored to have our app featured so highly in iTunes," said Luke Yang, Project Manager of Dishpal. "We believe that our app really connects with food lovers, hence its popularity."
With over 500,000 third-party applications currently available in the App Store, being one of only a handful of apps chosen to be featured in this daily list is a testament to DishPal's unique blend of social networking and foodie fun. The global reach and international appeal of DishPal is evident in that it has also been featured in the "New & Noteworthy" section of the iTunes App Store.
DishPal gives users the ability to create mobile "Potluck Parties", themed events where users can share pictures of similar food, as well as a "Magazine" feature, which allows users to create their own "best of" menu. DishPal brings an international perspective to users as people share their favorite food finds from around the globe.
The sophisticated, yet intuitive interface of DishPal makes this app both fun and easy to use. International technology news and culture website, thenextweb.com, calls DishPal a, "Beautifully designed app for iOS and Android."
DishPal allows users to share, comment on, and tag their dishes. The app integrates photo filters, as well as smart hashtags, to maximize its functionality, visual appeal and social networking capabilities. DishPal was also featured in the App Store's "Essential: Apps for Foodies" alongside Foodspotting, Ness, Eatery and Forkly.
About:
With DishPal users can discover favorite dishes, join a mobile potluck party with friends, publish their own magazine about the best dish, and snap a photo of their dishes and tag their tastes. DishPal is currently available for the iPhone, iPad, and iPod Touch in the iTunes App Store and is also available in the Android Market.