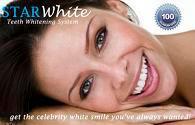 We feel everyone should be able to afford a beautiful white smile."
Boca Raton, FL (PRWEB) April 04, 2012
A new At Home Teeth Whitening product has hit the market. StarWhite, LLC is a new professional teeth-whitening system, which uses the same dental grade ingredients as a dental office, but at a fraction of the cost. What would cost over $400 from a dentist, StarWhite offers for less than $70. Why so cheap? "Everyone should be able to afford a beautiful white smile. A white smile helps build confidence and increases self-esteem", says Jessica Gruen, Starwhite's President & Founder whom launched the company in October of 2011. "Not only is this product extremely affordable but it uses the highest quality ingredients that are safe on tooth enamel and gums and also helps to protect teeth from cavities and future stains."
StarWhite is more than just a company looking to offer consumers a great deal and benefits on dental grade 'at home teeth whitening' options. The company is now involved in helping cure one of the leading public health problems in the world: dental disease. Dental diseases may affect the teeth and/or gums and other tissues and parts of the mouth. This is primarily due to lack of oral care from routine check ups, brushing and flossing one's teeth. Tooth decay and gum disease are extremely painful diseases and if left untreated can even be life threatening. This problem unfortunately is widespread among impoverished nations. StarWhite has formed a partnership with International Smile Power, a non-profit organization dedicated to deliver dental health care, supplies, education and training to under-served people in Guatemala, Bolivia, Mexico, and Haiti as well as in our own communities. "We empower children to become leaders to work together cross culturally in friendship, understanding and peace," speaks a board member for International Smile Power. StarWhite is thrilled at this opportunity to give to such a great and important cause.
As a new sponsor for International Smile Power, Starwhite is financially contributing a portion of all sales from the website for ISP's mission trips, supplies, and training. The campaign launched by StarWhite is called "Save a Smile". "The Starwhite team is very passionate about helping ISP raise awareness and looking forward to what our future can bring for this wonderful organization," states Gruen. When in the marketplace for professional teeth whitening just think, when you buy StarWhite, you are helping save a smile for someone in need, and that alone should be a reason to smile.
Visit StarWhite at http://www.mystarwhiteteeth.com to learn more about the partnership. Use coupon code 'prweb2012' and receive 30% off your purchase of $60.00 or more until May 15, 2012.
StarWhite was created with one simple commitment in mind: A white smile that is easy and affordable for everyone. The same results from a dentist can be expected with StarWhite's various At-home teeth whitening products, the Whitening Kit and On-the-go Whitening Pen! StarWhite uses the finest kosher-grade ingredients in their products that will give results upon very first application. StarWhite uses a carbamide peroxide gel that is pure formula with no fillers and will cause little to zero sensitivity on teeth and gums. Rated the #1 Teeth Whitening System, StarWhite guarantees 100% satisfaction to it's customers. Visit http://www.mystarwhiteteeth.com.