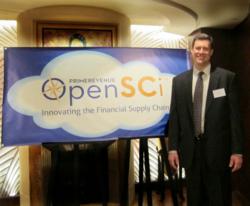 Atlanta, GA (PRWEB) April 02, 2012
PJ Bain, PrimeRevenue Inc.'s CEO, accompanied by several other PrimeRevenue executives cut the ceremonial ribbon to officially open PrimeRevenue's new Hong Kong office, located 88 Gloucester Road, Wanchai, Hong Kong. The new office is an addition to PrimeRevenue's office in Melbourne, Australia, that currently serves PrimeRevenue's expanding customer base in the Asia/Pacific region.
PrimeRevenue Inc., the leading SaaS platform for global Supply Chain Finance (SCF), christened its new location with a ceremony held on the evening of Wednesday, March 28th, at the Grand Hyatt Hotel, Wanchai, Hong Kong. The event was attended by local and regional PrimeRevenue customers and banking partners.
In addressing the audience, PJ Bain, PrimeRevenue CEO, said: "Our new Hong Kong location makes a strong statement to our customers that we are truly committed to our growth strategy in the world's fast growing business regions. We are delighted to introduce our new office and talented new staff who add valuable expertise and skill to the company, and we look forward to helping our Asia/Pacific customers achieve their supply chain finance objectives."
About PrimeRevenue,Inc.
For Global 2000 organizations who view their supply chains as a strategic asset and are seeking to increase supply chain efficiency, PrimeRevenue is the leading provider of multi-bank Supply Chain Finance (SCF) technology and services. The PrimeRevenue OpenSCi™ SCF platform and working capital advisory services provide these organizations with the control and flexibility required to drive superior SCF results, reducing cost and capital risk throughout their supply chains and forging stronger supplier relationships. Headquartered in Atlanta, Georgia, USA, PrimeRevenue also has offices in London, Paris, Frankfurt and Prague in Europe, as well as in Melbourne, Australia, and Hong Kong, Hong Kong, and operates some of the largest SCF programs for customers around the globe. For more information, visit http://www.primerevenue.com
###
Contact:
Oana Leventi-Perez
PrimeRevenue, Inc.
(o)+1-404-665-3768
(c)+1-678-368-2583
oleventiperez(at)primerevenue(dot)com