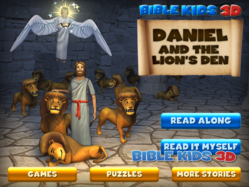 "kids and parents will enjoy reading, tapping and listening to the most popular books of the Bible. If kids learn this much about the incredible stories of the Bible stories- parents are way ahead in teaching their kids the most important lessons in life"
Plano, TX (PRWEB) April 23, 2012
BibleKids 3D is proud to announce their next two titles in the digital Bible book series- Daniel and the Lion's Den and Prodigal Son. BibleKids 3D previously launched Noah's Ark and Christmas Story in December 2011 are back with two new awesome books.
BibleKids 3D's Co-Founder, Jason Padgett actor -"Spiderman" "the Shield," says "kids and parents will enjoy reading, tapping and listening to the most popular books of the Bible. If children learn this much about the incredible stories of the Bible- parents are way ahead in teaching their kids the most important lessons in life"
Daniel and the Lion's Den is set in the time of King Darius, from the Book of Daniel, Chapter 6 in the Bible, Daniel is going to be in charge of several governors in Babylon. The governors do not like the idea of Daniel, an outsider, to be over the whole Kingdom. This book shows what happened next, and it is sure to be fun for the entire family.
Prodigal Son, Luke Chapter 15, is the story where Jesus tells the Pharisees and religious leaders about God's unending love for us and how He waits patiently, with loving compassion to restore us when we return to Him. Follow the family of the father, the older son and the younger son through this awesome adventure. What happens when the younger son leaves with all his inheritance? BibleKids 3D makes learning Bible stories fun.
At BibleKids 3D we leave the theology up to the parents, but put the joy and adventure into your hands. The characters are rendered in full 3D, utilizing the Unity 3D Game Engine. "Even though they are classified as books, they really are a lot more than that" says Joyner "there are no pages, but instead we have beautiful 3D scenes, it is more something of a kids game." The series of books also have games and puzzles included. The books are narrated for listening or can be used to read along with with no narration.
BibleKdis 3D books work on the iPad series. Search BibleKids3D on the App Store.
Stay tuned for more books coming from BibleKids 3D "It's Fun To Believe".
Join BibleKids 3D on Facebook and watch as they develop the books with screenshots, digital renderings and more. They would love to hear from you. Or visit http://www.biblekids3d.com.