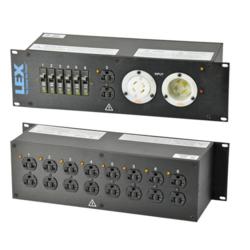 "Lex Products' Enclosed Rack Mount Power Distribution range meets the entertainment industry's demand for flexibility regarding power distribution with a wide variety of module options," said Bob Luther, Lex Products' CEO.
Shelton, CT (PRWEB) April 09, 2012
Lex Products Corporation has announced a new line of portable enclosed rack mount power distribution modules, which allow convenience receptacles to be added to standard 19" permanent or portable rolling racks. Modules can be added or removed based on application requirements. With this new product range, Lex Products expands its position as the leader in portable power solutions for the entertainment industry.
The PowerRACK™ Enclosed Rack Mount Power Distribution modules are ETL Listed to UL Standards and are available in a wide variety of configurations. A multiplicity of input and output options, as well as simple installation and reconfiguration, make the modules exceptionally flexible for shifting power requirements. Typical applications include powering audio and lighting equipment, and a number of modules include PowerCON connectors for LED lighting.
"Due to the dynamic nature of the entertainment production business, the industry requires an extraordinary amount of flexibility and dexterity regarding power distribution," said Bob Luther, chief executive officer of Lex Products. "The new Lex Products Rack Mount Power Distribution range meets this demand by providing a Listed solution with superior convenience and a wide variety of module options." Luther added that the customizable PowerRACK Rolling Distribution Rack is an ideal accompaniment for this new product line due to the rack's nimbleness and durability.
Product Features and Benefits:
PowerRACK Enclosed Rack Mount Power Distribution Modules:
Convenient and Flexible: The 19 Enclosed Rack Mount Power Distribution modules offer a wide array of input and output options, including PowerCON inputs and outputs for LED lighting. Modules can be fed from an outside power source, or a power source within the rack. The modules are offered in 1, 2 and 3 rack unit configurations and are designed to fit in any standard 19-inch portable or permanent rack.
Compliance: All modules are ETL Listed to UL Standards and feature branch-rated circuit protection.
Ease of Use: Modules include indicator lights and silk-screened numbers for easy circuit identification.
Durable and Lightweight: Enclosures feature anodized black aluminum construction, making the modules sleek and lightweight, yet durable to withstand rough treatment.
PowerRACK Rolling Distribution Racks:
Practical and Portable: A lightweight, yet rugged aluminum frame makes the PowerRACK Rolling Distribution Rack easy to transport. Recessed cups on the top panel allow for stacking.
Sturdy and Resistant to Wear: The PowerRACK Rolling Distribution Rack is fully enclosed to provide modules with added protection during transport. The rolling rack features top, bottom and side panels constructed from high impact and high density polymer, making the rack resistant to the elements, corrosion, scratching and denting. Hardware is recessed to protect from breakage and catching, and front and back latches "snap in" to provide easy access without compromising safety.
Customizable: Lex Products can also design and manufacture custom rolling racks in dimensions ranging from 4 to 28 rack units. Company logos can be routered into the top or side panels for easy identification.
About Lex Products:
Lex Products Corporation is a leading manufacturer of innovative power distribution and control systems for demanding markets, including entertainment, industrial and the military. Founded in 1989, the company specializes in portable power systems including distribution boxes, cable assemblies, cable protectors and other products, designed to withstand rough use and harsh environments. Lex Products is ISO 9001:2008 certified in the design and manufacturing of sheet metal and cable assemblies. Created by the International Organization for Standardization, ISO 9001 is an international standard that mandates requirements for an organization's quality management system.
Headquartered in Shelton, Connecticut, the company also has offices in Sun Valley, California. The company was ranked in the 2011 Inc. 5000, and ranked 72nd for growth in the manufacturing segment. To learn more about Lex Products, please visit http://www.lexproducts.com.