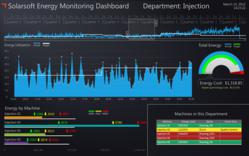 Solarsoft Mattec MES now includes energy planning and monitoring functionality to assist manufacturers with energy management programs
Toronto, Ontario (PRWEB) April 03, 2012
Solarsoft Business Systems, a leading provider of enterprise software and IT services to manufacturers worldwide, announced today that their flagship manufacturing execution system, Solarsoft Mattec MES, now includes energy planning and monitoring functionality to assist manufacturers with energy management programs.
Operations and plant professionals commonly quip, "Avoid starting up all the big motors at one time." With today's tough economic climate and pressure for sustainability, manufacturers in every industry find that it's not enough to follow yesterday's impassive approach to energy consumption. Commercial utility rates often spike during tension periods of peak demand, and utility companies charge premium rates for high usage blocks. Energy is typically one of the top three costs in today's manufacturing facility, and operations professionals believe that in the next three to five years it will become the number one plant expense.
Scheduling production and workload in a way that reduces the plant's total power demand plus takes advantage of rate variations can translate to significant savings – in terms of total energy consumed and the actual cost per kilowatt hour.
"We want to help manufacturers improve efficiency," said Andy Amalfitano, general manager of Solarsoft's manufacturing execution and intelligence division. "People think that only means making more product with the same resources. But, to Solarsoft it also means helping plants avoid paying peak prices for energy and reducing their overall energy consumption."
Managing power consumption is largely site-specific, but the economic impact flows up to business results, and can be felt by the outbound supply chain. Manufacturers who use Solarsoft Mattec MES in conjunction with their energy management program:

Monitor and control energy consumption and understand the tradeoffs between idling machines, and shutting down and restarting later;
Eliminate unnecessary peak rate use by leveling energy consumption and planning sheddable loads according to lowest-rate periods;
Analyze energy use by machine, job, shift, product or any other dimension;
Accurately capture the direct energy cost to produce any part or product, in order to accurately set prices;
Determine which machine uses the least energy to produce any given part;
Understand the energy cost associated with uptime versus downtime for better maintenance planning; and,
Control quality in context of energy consumption for machines that are pre-heated or have variable heat settings based on product being made.
Manufacturers can start managing energy immediately with Solarsoft's Mattec MES. To learn more about using Solarsoft to launch or support your energy management initiative, visit http://www.solarsoft.com, or call +1 905 224 2222.
About Solarsoft Business Systems
Solarsoft provides modern enterprise software and IT services to manufacturers, distributors and wholesale businesses in North America, Europe and Asia. The company has grown organically and through acquisition since 1986 and has worldwide revenues of US$100 million. Solarsoft employs more than 400 professionals providing local support across 16 time zones. More than 2,000 companies rely on Solarsoft to bring clarity and efficiency to their daily operations. For more information please visit http://www.solarsoft.com.