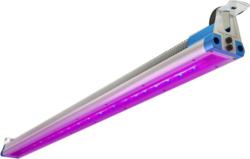 Hydrofarm selected the LumiGrow product line because of the company's proven track record for product and service quality.
Novato, CA (PRWEB) April 24, 2012
LumiGrow, Inc. (http://www.lumigrow.com), the leading provider of smart horticultural lighting, today announced that it has signed a North American distribution agreement with Hydrofarm, Inc., one of the world's largest wholesalers and manufacturers of indoor gardening products.
Hydrofarm's six state-of-the-art distribution centers will make LumiGrow LED lighting for greenhouses, controlled environment agriculture farms and urban gardens readily available to more than 1,500 garden center and hydroponic equipment retailers throughout the United States and Canada.
Designed and built in the US, the LumiGrow product line is independently proven to improve crop yields and reduce operating costs by half compared to conventional lighting. Growers gain more control over crop characteristics with the LumiGrow solution's tunable color spectrum. The LumiGrow solution's compact, all-in-one design minimizes canopy shadowing and eliminates the cost and complexity of systems requiring fans, ballasts and reflectors.
Hydrofarm will carry the full LumiGrow product line including the ES330™ and ES165™ systems for greenhouses and indoor gardens, the LumiBar™ LED strip light for shelf systems and the LumiBulb™ red and far red LED light bulbs for supplementary light applications.
"The marketplace is signaling its readiness for LED lighting solutions that deliver substantial crop yield gains and energy savings," said Chris Whipple, product manager, Hydrofarm. "We selected the LumiGrow product line because of the company's proven track record for product and service quality," continued Mr. Whipple.
"Hydrofarm's specialization in high-quality indoor growing equipment for garden center and hydroponic retailers makes it a strategic fit for LumiGrow," said Neil Coppinger, vice president of sales, LumiGrow. He added, "Hydrofarm's logistics expertise will provide retailers looking for our products with superior service in the key areas of product availability, on-time delivery and responsiveness."
About Hydrofarm, Inc.
Founded in 1977, Hydrofarm is the nation's oldest and largest manufacturer of indoor growing equipment and grow lights.
Hydrofarm is headquartered in Petaluma, CA, with 6 distribution centers located around the country. Their brand products are the choice of more indoor gardeners and gardening retailers than all other brands combined. You can find their products in hundreds of stores and catalogs across North America. They are also being used by some of the nation's largest commercial greenhouse growers.
About LumiGrow, Inc.
LumiGrow, Inc., the leader in smart horticultural lighting, enables commercial growers and agribusinesses to reduce energy costs, achieve operational efficiencies and improve crop yield. LumiGrow offers a range of third-party proven solutions for use in greenhouses, controlled environment agriculture and scientific research chambers. LumiGrow solutions are eligible for energy efficiency subsidies from Pacific Gas & Electric, Puget Sound Energy and other utilities. The Company's 1,000+ commercial and institutional installations include Dow AgroSciences, Duke University and the USDA. Headquartered in Novato, California, LumiGrow is privately owned and operated. For more information, call (800) 514-0487 or visit http://www.lumigrow.com.
LumiGrow is a registered trademark of LumiGrow, Inc. All other marks are the property of their respective owners.
###