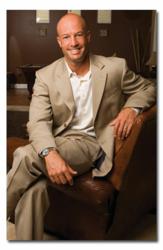 Being a chiropractor is knowing you facilitate healing however realizing you are not the healer.
San Diego, CA (PRWEB) April 17, 2012
Family chiropractor Marc Gottlieb, D.C. provides lifestyle tips that may help people overcome back pain and neck pain, while sharing secrets of becoming one of the nation's top family chiropractors in his San Diego chiropractic practice member volume. All of this information can be found in a new interview with the Chiropractic Journal. Dr. Marc Gottlieb believes the secret to success in business is balance in life. "Giving 100% to everything you do at the present time and staying focused at the moment is living a balanced life," says Dr. Marc Gottlieb. Dr. Marc Gottlieb is a very disciplined and dedicated chiropractor, both to his family and his profession.
Dr. Marc Gottlieb has been giving chiropractic adjustments to his own family for 15 years along with his two boys since birth. This fact, along with his pediatric chiropractic experience is why he is known as the "Baby Chiropractor" in San Diego. After graduating from UCSD as a psychology major, Dr. Marc Gottlieb found himself turned off by all the medication people were on, but he knew his calling was to help people somehow. Dr. Gottlieb was turned on to chiropractic care by his Oncologist uncle. "Chiropractic care is more about health care rather than pain treatment," says Dr. Marc Gottlieb. When asked what he felt were the skills that give him the ability to become one of the nations top chiropractors, Dr. Marc Gottlieb states three main skills: discipline, consistency and authenticity. Marc also welcomes new practice members looking for a chiropractor in San Diego.
Dr. Gottlieb follows a 90/10 rule, 90% of the time doing what is right and 10% of the time rewarding oneself. In order to serve people Marc believes in being at his optimum self, physically, emotionally, and mentally. Dr. Marc Gottlieb says, "Being a chiropractor is knowing you facilitate healing however realizing you are not the healer." During the interview with the Chiropractic journal, Dr. Marc Gottlieb also talks about the closeness he has with his family and his chiropractic team. Dr. Marc lists the four agreements essential to his success, Dr. Gottlieb says, "Be impeccable with your words, don't make assumptions that is when the ball gets dropped, don't take anything personal if you have given the right recommendations at the end of the day you have done your job, and the last thing is always do your best giving each client 100% without
any distractions such as emails, internet and being on the phone while adjusting."
Marc also gives advice to chiropractic students in the field: "Volunteer as an intern and attend seminars to be better prepared." When asked what is the vision for Chiropractic in the future, Dr. Gottlieb answered, "What I think it should be is practicing the principles and sticking true to the 33 principles of chiropractic, which there is an innate ability for the human body to heal. We need to understand we are facilitators in that; we're not the healing or the healers. God heals me and I help and facilitate others to heal themselves, that principle is the one we have to stick to as chiropractors if we want our profession to flourish and continue to grow year after year after year."
About The Life Within Chiropractic Center:
Dr. Marc Gottlieb graduated from the University of California, San Diego with a bachelor's degree (honors) in Psychology. After this, Dr. Gottlieb attended the esteemed Palmer College of Chiropractic West in San Jose, CA, receiving a doctorate of Chiropractic degree in 1999. With a diverse background in education and athletics, Dr. Gottlieb provides incredible chiropractic education and inspires others to achieve maximum health. He has an overwhelming passion for life and a very close relationship with his wife Clover and his two sons, Jett and Jax. Marc strives to remain balanced in life at all times. Dr. Gottlieb has an intense desire to serve his local community and make a difference in the lives of everyone he touches. As of today, Dr. Marc Gottlieb is a top San Diego chiropractor. He has developed an unrivaled and unparalleled atmosphere and energy at http://www.lifewithincenter.com/ - Since 1999, Dr. Gottlieb has served thousands of people in one of the most successful chiropractic practices in the greater San Diego area.