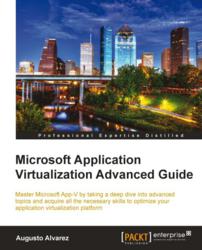 Microsoft Application Virtualization Advanced Guide- A practical tutorial containing clear, step-by-step explanations of all the concepts required to understand the technology in Microsoft App-V.
Birmingham, UK (PRWEB) April 02, 2012
Packt is pleased to announce Microsoft Application Virtualization Advanced Guide, a practical tutorial that aims at understanding the technology involved in virtualizing application infrastructure. Written by Augusto Alvarez, this book details the scripting within App-V and enables the system administrators and consultants to gain a deeper understanding of the technology in order to optimize App V implementations.
Microsoft Application Virtualization platform allows applications to be deployed in real-time to any client from a virtual application server. MS App-V thus allows centralized installation and management of deployed applications. App-V also allows copy of the applications across multiple application servers for better scalability and fault tolerance.
Microsoft Application Virtualization Advanced Guide enables system administrators to get their hands on implementing the scripting process within App-V applications as well as review how to use App-V command lines. Additionally they will also be able to deploy applications using HTTP/S or configure standalone modes for local and SMB Streaming in complex scenarios such as adjusting communication ports for application delivery.
With realistic scenarios and detailed examples, this book not only helps administrators in exploring the steps to virtualize server applications by introducing App-V in VDI and SCCM 2012 but also find detailed topics for understanding App-V components, architecture and implementation models with a step-by-step guidance to master App-V processes.
Some of the chapters emphasized in the book are;
Chapter 1: Taking a deep dive into App-V
Chapter 2: Sequencing in Complex Environments.
Chapter 3: Deploying Applications in Complex Environments
Chapter 4: Handling Scripting and App-V Command Lines
Chapter 5: Troubleshooting App-V
Chapter 6: Scaling Up App-V Implementations
Chapter 7: Integrating App-V with Virtual Desktop
Chapter 8: Integrating App-V with System Center
Chapter 9: Integrating Server App-V with Private Clouds
Packt Publishing has also released other Microsoft titles:

Getting Started with Microsoft Application Virtualization 4.6 (published)
Microsoft Visual Studio 11 First Look Cookbook (due)
JMicrosoft System Center 2012 Endpoint Protection Cookbook (due)
Microsoft Data Protection Manager 2010 (published)
All Microsoft books are Published by Packt Enterprise. Packt Enterprise is a publishing division of Packt Publishing designed to serve the information needs of IT Professionals in the Enterprise space. Packt Enterprise also publishes on Microsoft, IBM, Oracle, Citrix, Java, Amazon, Google and SAP technologies.