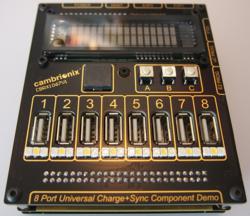 The worlds first truly universal charge / sync component
Cambridge, UK (PRWEB UK) 1 April 2012
Cambrionix, the Cambridge based designer of professional USB products has released the new U8S 8-port charge and sync component. With both Mac and Windows options available, a truly universal product for all charge and sync requirements.
The U8S is so flexible you can charge multiple device types simultaneously. Tablets, Cellphones, MP3 players, Handheld Game consoles, 3D Glasses, e-readers, in fact, the U8S can deal with pretty much anything that can be charged via a USB port.
Whatever device is connected, the internal database, (user upgradeable via the Cambrionix firmware updater application) will ensure the correct charging profile is used, maintaining battery performance and extending battery life. The future proof design ensures that even if you upgrade or buy additional devices in the future, you'll always be able to charge and sync them.
The U8S gives you total control of individual ports via the host computer and a terminal application or programming script if required, without the need for additional hardware. Port monitoring via a terminal application allows a real time view of all of the port states including the charging profile used, the current being consumed by each device, security status and unauthorised removal plus many other parameters. This total control over individual port function makes the U8S perfect for use in Schools, Library's, Charging Kiosks, Hotels and Restaurants, Conference Center's, Airline Lounges, anywhere you can think of where your customer service can be enhanced by offering universal charging facilities.
The U8S can also be linked to an LCD display, or LEDs, to provide visual indication of individual port and battery status. The charging status indication operates reliably no matter what devices are connected to the U8S, even if the connected devices are all from different manufacturers. Our engineers have also added a new security feature which can be used to trigger an audible or visual alarm should devices be unplugged from the U8S once armed.
For the Cart and Case manufactures, like all the products in our portfolio, the U8S component accelerates your time to market in all charge and sync developments. The Low-cost and high performance of the U8S will help you expand your product portfolio into these new, and fast growing markets.
The U8S unit can be easily customised for unique use with an option to re-brand the firmware updater application and LCD text. The options available allow you to use an off-the-shelf product, and at the same time, offer a product designed to meet the individual needs of your clients and customers.
Our customers include some of the world's largest companies operating in IT, Mobile phone, Education and many other industries. Our products are being used by many of our clients to provide charge and sync to Schools and Universities, Hotels and Airlines, Libraries and Museums as they roll-out handheld devices, and services globally. Millions of devices around the world are charged everyday using Cambrionix technology.
Company information:
Cambrionix, established in June 2007 is based in St. Johns Innovation Centre, Cambridge, UK.
With many years of design and manufacturing experience and proven product delivery we have established excellent working relationships with some of the worlds largest and most successful companies. We design and manufacture solutions to niche problems and with our streamlined design workflow we can deliver within even the most demanding of timescales.
From concepts to manufacture, Cambrionix has helped many businesses bring their designs to life. With our small team of forward thinking, innovative and motivated design and manufacturing specialists, Cambrionix can give your project the attention it deserves.