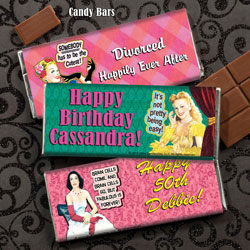 South Whitley, Indiana (PRWEB) April 05, 2012
Move aside parties with martinis, cigarettes, and suits. Shindigz announces its new line of girlfriend party supplies centering on the sassy and witty women of Olive Sandwiches.
In a time when vintage is sheik and characters like Marilyn Monroe, Elvis, and the Men of Madison Avenue pervade mainstream, the clever and charming women of Olive Sandwiches products lure style-setting, hosts of bachelorette parties, book clubs, birthday parties, retirement parties, and themed fundraisers to promote girl power.
Founded by Nancy Rider Hunt, the new line of Olive Sandwiches favors and decorations set the table for a 50's era gala. This girlfriend party features women, who poignantly expose "being real" with quips such as "Somebody has to be the cutest" or "She knew how to please a man, but most days she chose not to!"
Old fashioned, olive sandwiches were one of the few remaining meals Nancy Rider Hunt's mother, Carolyn Rider enjoyed during the final stages of her terminal illness. Hunt recalls that her mother "loved beautiful things and had a great sense of humor, collecting not only unique items but also unique 'words of wisdom'. I've dedicated Olive Sandwiches to those same pursuits of wisdom, beauty, laughter and all the little things that make life truly unique and worth living."
Jacquie Downey, Director of Sales and Marketing at Shindigz adds, "Our goal at Shindigz is to make life more fun. Olive Sandwiches perfectly embodies this spirit to our customers. Women with a sense of humor will especially love the vintage looks and footloose sayings on Olive Sandwiches party products with one of my favorites being, 'You had me at Merlot.'"
Customers choose their favorite characters and sayings on personalized coasters, candy bars, banners, cookie tins, mint tins, compact mirrors, stickers, lollipops, and bottle labels. Downey beams, "The possibilities for unique girlfriend parties are endless. Embrace your spunk and let Olive Sandwiches entertain your guests."
About Shindigz
Shindigz party supplies aims "to make life more fun." Family-owned, Shindigz is located in the heart of Indiana in South Whitley and sells 36,000 unique party products online. Since 1926, Shindigz has been a part of over 22 million events and delighted customers with creative party ideas, supplies, and party decorations.
About Olive Sandwiches
Founded by Nancy Rider Hunt in 2004 in Gig Harbor, Washington, Olive Sandwiches is known throughout the greeting card and gift industry for Nancy's unique blend of sassy images, vivid colors and quirky humor. With hundreds of greeting card designs, fridge magnets and other products, Olive Sandwiches is a favorite source of fun for "ladies who love to laugh".