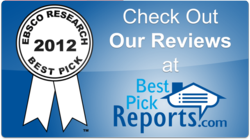 Dallas, Texas (PRWEB) April 30, 2012
Aspenmark Roofing & Solar is excited to make the EBSCO Research "Best Pick" 2012" list for a second consecutive year. EBSCO certifies home improvement contractors through a rigorous process of research, grading, credentialing and monitoring the selected contractors. This is confirmation that Aspenmark is the clear LOCAL choice when it comes to quality workmanship, customer care and roofing expertise in Dallas - Ft. Worth, East Texas and throughout the Southwest. Your home is important to us and we treat it as if it were our own.
The Aspenmark team has more than 45 years of experience in the building materials, construction and insurance industries to deliver the knowledge and white-glove service you deserve.
Aspenmark Roofing & Solar is a leader in the use of innovative Green, LEED-approved and energy efficient products. Our certifications and warranties are the best in the industry.