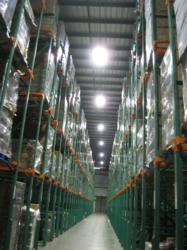 Albany, NY (PRWEB) April 10, 2012
SmartWatt Energy, Inc., a leader in LED lighting based energy-efficiency solutions for cold storage facilities, will be sponsoring and exhibiting at the 2012 International Association of Refrigerated Warehouses (IARW) and World Food Logistics Organization (WFLO) Convention & Expo. The conference is being held at the JW Marriott Starr Pass Resort and Spa in Tucson, Arizona on April 21-26, 2012.
Attendees are encouraged to visit SmartWatt Energy at Booth 511 to qualify for a complimentary commercial energy analysis and discuss energy savings needs with staff. SmartWatt Energy's Vice President of West Coast Operations and representatives from the corporate office will be in attendance.
SmartWatt Energy's value-engineered comprehensive energy-efficiency solutions allow cold storage facilities to operate more efficiently, save on energy costs and maximize utility rebates. With operations nationwide, SmartWatt Energy has developed innovative energy-savings solutions for many IARW and WFLO members, including multiple national account rollouts.
The IARW-WFLO Convention & Expo is held annually for members of the cold storage industry. The theme for the 2012 convention is "Energizing Success" and is geared towards giving attendees the resources to reduce energy costs, meet increasing customer demands and plan for future market changes.
ABOUT SMARTWATT ENERGY, INC.
SmartWatt Energy, Inc., is a leading nationwide provider of turnkey energy-efficiency solutions. SmartWatt Energy is dedicated to lowering businesses' operational costs through demand-side energy-reduction strategies. SmartWatt Energy provides whole building energy assessments and implements lighting retrofits, variable-frequency drive upgrades, control system enhancements and other mechanical upgrades to help commercial, industrial, government and utility customers meet their sustainability goals. SmartWatt Energy's energy-efficiency services include construction-grade energy audits, value-engineered designs, self-performed installations, utility incentive procurement, facilitation of EPAct 2005 tax deductions and maintenance support.