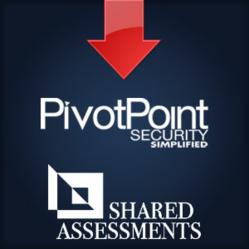 We endorse the Shared Assessments Program approach as it simplifies the third party attestation process for service providers
Hamilton, NJ (PRWEB) April 03, 2012
Pivot Point Security, a leading Information Security Assurance firm, announces that it has recently joined the Shared Assessments Program as an assessment firm member.
The Shared Assessments Program was created by leading financial institutions, accounting firms, and key service providers to inject standardization, consistency, speed, efficiency and cost savings into the vendor risk assessment process.

The Shared Assessments program provides an assessment of an organization's implementation of its controls using a standardized questionnaire which is based on the ISO 27002 standard.
The program leverages a set of "Agreed Upon Procedures" which more rigidly define the approach to the 27002 Gap Assessment. This approach allows service providers to undergo a single assessment , and then provide the results to multiple clients who have agreed to the process.
"We endorse the Shared Assessments Program approach as it simplifies the third party attestation process for service providers" says Mosi Platt, Lead Auditor at Pivot Point Security. "Because it is based on ISO-27002 we also see it as a logical stepping stone towards ISO-27001 certification, which is where most of our service provider clients are moving."
Pivot Point Security has made extensive use of the Shared Assessments Program across a half dozen verticals prior to becoming a member. For example:
A Gap Assessment for a large mobile diagnostics organization to prove compliance with HIPAA and related data security requirements.
A Gap Assessment for one of the world's leading financial services firms to evaluate controls over personally-identifiable client information (PII).
Catherine A. Allen, Chairman and CEO of The Santa Fe Group, commented on Pivot Point Security's decision to join the Shared Assessments Program. "We are excited to have a company with broad security assessment experience including expertise across ISO 27001/27002, HIPAA, PII, and PCI, join the program. We commend Pivot Point Security for becoming a member of the Shared Assessments Program and are pleased to see their dedication to working with others in the industry to simplify security assessments."
For more information on the Shared Assessments Program and the service offering, please visit http://www.pivotpointsecurity.com/shared-assessments
About Pivot Point Security:
Continually evolving technology, business requirements, regulations, and threats make "being secure" and "proving you're compliant" increasingly complex. The only logical response: Simplify. Pivot Point Security knows how important compliance is – and how helpful The Shared Assessment Program can be can be in proving that compliance. For more information visit Pivot Point Security at http://www.pivotpointsecurity.com