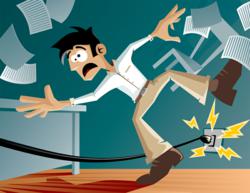 Workplace fatalities have also dropped since 2001, from 0.9 to 0.5 deaths per 100,000 workers.
(PRWEB UK) 14 April 2012
As unemployment in the UK increases unabashed, there's an opposite trend starting to emerge in the number of workplace accidents being reported across the country.
There are approximately 1.5 million accidents and injuries reported in the UK every year, taking into account everything from a paper cut to serious chemical burns. As businesses face increasing pressures in a difficult economic environment, it may be surprising to hear that these numbers have been steadily decreasing.
For every 100,000 workers in the UK, there were approximately 99 major injuries recorded in 2011, down 11% on figures at the turn of the century. This drop is staggering once you include injuries that have caused at least a 3-day absence, which have decreased by 48% to 363 injuries per 100,000 workers over the last 10 years.
Workplace fatalities have also dropped since 2001, from 0.9 to 0.5 deaths per 100,000 workers. Over the same period, UK unemployment has risen by over 65%.
There are various reasons this might be the case:
Higher unemployment in accident prone roles – as technological advancements decrease the reliance on manual labour in some industries, there are fewer dangerous situations for people to get themselves into and machines take the main brunt of the knocks.
Companies improving safety standards – with fears that employees could put in costly personal accident claims, businesses may be taking a long-term view that investing in safety procedures will pay off for years to come as economic conditions become more uncertain.
Fewer accidents being reported – whilst it's a legal requirement for all organisations to retain comprehensive accident logs, workers thoughts may be affected by a mass of redundancies and general unease, meaning they may choose to shake off a minor injury in the hope that it won't affect their future employment.
Claims4Free is part of a network of websites all dedicated to helping the UK consumer enjoy their online experience which has been diluted over and over again by the simply billions of websites out their. We believe that web users want information on the service they are looking for, choices regarding the service they need and easy access to that service.