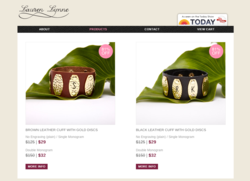 Without Excela, our main site would not have been able to withstand the traffic spike generated by TODAY show viewers
Los Angeles, CA (PRWEB) April 06, 2012
Cool and glitzy jewelry line Lauren Lynne approached Excela Creative to create a high-traffic server platform to manage a convergence of customers during its deal featured on TODAY Show's "Jill's Steals and Deals" on March 12.
To date, Excela Creative has built 106 high-traffic websites for TODAY Show with an average turnaround time to build sites in four to five days, often even sooner. Not a single high-traffic site built by Excela Creative has crashed. Prior experiences for clients versus ones that haven't used Excela Creative have resulted in more than twice the amount of sales.
"Without Excela, our main site would not have been able to withstand the traffic spike generated by TODAY show viewers, however, the micro site they created for us did just that," said Stacey Fish, co-founder of Lauren Lynne. "Thanks to Excela, the whole process was flawless and a huge success."
With just four days to ready for the sale, Lauren Lynne came to Excela Creative to build a site with the ability to withstand high volume traffic and have the ability to process a large number of sales in a short amount of time. The deal resulted in a total conversion rate of 28% of purchasers to site visitors, with approximately 5,000 units sold during the 24-hour sale.
"With so many visitors coming to the site, we understand the customer desires a shopping experience that is seamless and streamlined," said Wyatt Glodell, senior web developer for Excela Creative. "Utilizing our custom-built high-traffic website allows the customer to purchase easily and for the brand to take on higher amount of sales without the risk of a site crash."
The bi-weekly deal segment, which runs on a short lead-time and offers a significant discount (up to 90% off) for products, rakes in millions of viewers, resulting in thousands of dollars in sales for featured brands.
ABOUT LAUREN LYNNE
The Lauren Lynne collection is a compilation of unique pieces sisters Gina Lynne Katz and Stacey Lauren Fish have created or discovered all over the world. Replete with stunning stones, luxurious rose gold, sterling silver and gold jewelry, the collection delivers bracelets, rings, necklaces and earrings complement an outfit for a casual outing or a dressy night out. For more information, please visit http://www.laurenlynne.com
ABOUT EXCELA CREATIVE:
With more than 100 high-traffic websites designed, Excela Creative has become the leading choice for brands featured on "Jill's Steals in Deals." A division of Excela, For Everything Business, the company specializes in after-sale online marketing services including email marketing,social media marketing, web design, digital PR and more. For more information, please visit http://www.excelacreative.com