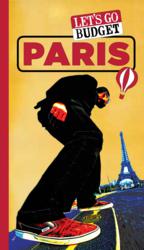 Catch some Olympic glory without spending a penny.
Cambridge, MA (PRWEB) April 03, 2012
Getting the most bang for each buck is a lofty challenge for the typical traveler in Europe. Fortunately, Let's Go Travel Guides has agreed to share the top ten freebie and budget secrets from its new Let's Go Budget series. From Spain to Turkey, these destination-specific tips will maximize travelers' cultural experiences abroad while keeping their wallets nice and plump.
Here are Let's Go's top ten budget travel tips:
1. Olympics (London): Catch some Olympic glory without spending a penny by attending one of the free events, such as the marathon, triathlon, or cycling road race. Head to Hyde Park to catch the cycling portion of the triathlon.
2. Dos de Mayo (Madrid): Malasaña's biggest party honors the memory of the madrileños who were killed in the fight to free Spain from Joseph Napoleon—and for travelers, that means free museum entry, live music, and dancing on May 2nd.
3. Bazaars (Istanbul): At Istanbul's markets, American travelers should pretend they're anything but American. Speaking a foreign language other than English translates into lower prices. It's also smart to ignore the gimmicks found immediately upon entering the bazaar and head straight to the backstreets, where vendors are likely to have more practical products and be more receptive to bargaining.
4. Vatican Museums (Rome): Normally a whopping €15, this popular museum complex opens its doors for free on the last Sunday of every month. Beyond the Sistine Chapel, be sure to check out the Pinacoteca, home to some of the best Italian art from the 12th-17th centuries by artists like Giotto, Fra Angelico, Raphael, and Caravaggio.
5. Museumjaarkaart (Amsterdam): Dutch for "Museum Year Pass," the Museumjaarkaart grants unlimited access to Amsterdam's many museums. Travelers planning on going to more than two or three museums while in the city should rush to buy one of these.
6. Poble Espanyol (Barcelona): Head to Shangó Bar on Tuesday and Wednesday nights for free salsa lessons.
7. New Europe Tours (Prague): Czech out New Europe's free city tour to get acquainted with Prague's major sights. Paid options are also available, including a castle tour, beer tour, Terezín concentration camp tour, and Kutná Hora tour.
8. Garage (Berlin): "Happy Hour" (Wednesdays from 11am to 1pm) at secondhand store Garage offers 30% off of prices that already make travelers weak in the knees.
9. Ferries (Athens): To get from Athens to the neighboring Cyclades at a lower cost, trade the plane for the ferry. For further savings, take a standard ferry—they're cheaper, and they run more frequently, than the fast ferries.
10. Palazzo Pitti (Florence): It may cost €10, but a ticket to the Palazzo Pitti can get travelers access to three museums and the Boboli Gardens. Let's Go recommends Ticket 2 over Ticket 1.
The new Let's Go Budget series includes guidebooks for London, Madrid, Istanbul, Rome, Amsterdam, Barcelona, Prague, Berlin, Athens, Florence, and Paris. For more budget tips and deals, subscribe to the Let's Go e-newsletter.
About Let's Go Travel Guides | Letsgo.com
Let's Go Travel Guides is the only travel guide created exclusively by students, for students. Run entirely by Harvard students since 1960, Let's Go offers a fresh, young perspective on hundreds of travel destinations around the globe, and has become one of the most popular hubs of travel information, tips, and know-how through its guides, mobile apps, and website, http://www.letsgo.com. Built around the unique viewpoint of energetic, budget-minded explorers, Let's Go's firsthand, insider knowledge of the student travel experience entices adventure lovers of all ages.
# # #