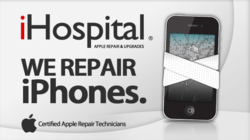 "iHospital does it all. MacBook Pro repair, iPad repair, Apple computer repair, iPhone repair
Nashville, TN (PRWEB) April 02, 2012
- iHospital, one of the nation's leading repair and accessory providers for Apple devices, has announced the opening of its newest service center in Nashville. Located a block away from the Vanderbilt University campus and few short miles from downtown Nashville, iHospital Nashville, provides same-day, walk-in diagnostics, service and repairs for any kind of Apple device.
Since 2010, iHospital has opened six locations nationwide and is fast becoming the preferred place to bring Apple products for a full diagnosis and cure. Unlike most repair centers, no appointment is necessary. All walk in appointments receive a free diagnosis by the scrub-clad Apple-Certified Doctors of iDevices (DiD), and most repairs can be done while you wait and come with a one-year warranty.
Ross Newman, DiD, the Founder and CEO of iHospital, says, "We're excited to be opening our newest location in Nashville. Students and locals alike deserve to have a convenient and accessible place to bring their Apple devices in for repair without having to wait in long lines or pay ridiculous prices." He continues, "iHospital does it all. MacBook Pro repair, iPad repair, Apple computer repair,iPhone repair. From shattered screens to worn out batteries to water damage, we take care of all your Apple products, even if the warranty has expired, while saving you money."
The Nashville iHospital location is conveniently located a block away from Vanderbilt University next door to Smoothie King, Calypso Café and Edible Arrangements at 2414 Ellison Place.
iHospital has five other Apple service and repair centers in Tampa, Atlanta, Gainesville and New York. Known for their expertise and extensive training, various media outlets frequently interview Newman and his Doctor of iDevices as Apple device experts such as Fox, NBC, Washington Square News, New York Post, St. Pete Times, and The Wall Street Journal. More information on iHospital as well as store locations and hours can be found at http://www.theiHospital.com.
About iHospital
iHospital® was founded by Dr. Ross Newman, DiD* with one basic idea: provide a large range of repairs and services on Apple iDevices and computers with exemplary knowledge and customer service in a one-stop-shop atmosphere. Rather than repairing every make and model of electronic devices, iHospital has trained all of its iHospital doctors and technicians to focus on one family of products: Apple. They ensure most iPhone and iPad repairs are done same-day; some are done in a matter of minutes. In the words of Dr. Newman, "we strive to a successful and rewarding experience for our customers, going above and beyond when performing any service or repair."

Doctor of iDevices, not an accredited degree.