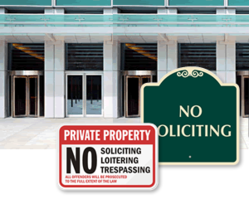 "Solicitors are a huge nuisance and it's also a hassle to tell them to go away," said Rena Sapon-White, Associate at MySecuritySign. "I think No Soliciting signs are a great way to stop problems before they start."

Brooklyn, NY (PRWEB) April 02, 2012
MySecuritySign.com is expanding promotions on No Soliciting Signs for the spring season. As the weather gets warmer, solicitors are more likely to visit and disturb people at the office or at home. MySecuritySign's signs against soliciting help pesky violators stay away.
Door-to-door solicitors annoy people across the nation. In addition to being disruptive, solicitors can also be scam operators. On March 25, 2012, the Mooresville Tribune of Mooresville, North Carolina reported a case of a fraudulent solicitor. One man was going door-to-door seeking donations for a possibly non-existent fundraising organization. Though Mooresville police are still examining the situation, authorities urge homeowners to exceed caution when confronted with a solicitor. No Soliciting signs are an excellent idea for keeping intruders away.
MySecuritySign's variety of No Soliciting Signs is unlike any other found on the Web. The retailer's signs warn against loitering, skateboarding and rollerblading in addition to soliciting. These items are great ways to protect property and reinforce no trespassing. "Solicitors are a huge nuisance and it's also a hassle to tell them to go away," said Rena Sapon-White, Associate at MySecuritySign. "I think No Soliciting signs are a great way to stop problems before they start."
One of the store's trademark attributes is that shoppers can create personal signs with custom templates. Simply select a template, add text and personal artwork, and choose from the different materials for the sign's composition. One of the best materials to work with is heavy-duty aluminum, which ensures that the signs will last for at least fifteen years outdoors. The colorful graphics are printed with 3M screen printing or 3M outdoor digital inks designed specifically for outdoor traffic and parking signs.
Sometimes a simple "No Soliciting Sign" may not be enough. One eye-catching item is MySecuritySign's "No Soliciting, No Exceptions" Sign. It shows that all forms of solicitation are not allowed, whether it's someone preaching about politics or religion, or salespeople with magazines or candy. MySecuritySign is always looking for ways to make the lives of customers more convenient. Signs such as the "No Soliciting, No Exception" are available to download as a free PDF if shoppers don't want a metal sign.
For more information and a better view of all No Soliciting Signs, visit http://www.mysecuritysign.com/MSS/No_Soliciting_Signs.aspx.
About MySecuritySign.com
MySecuritySign.com provides over 5,000 different security signs to protect any home or property. Whether it's video surveillance, no trespassing, or customizable options, the signs will last for decades through weather and abrasion. Find direct-from-factory items 50% cheaper than any competitor.
About SmartSign
SmartSign is one of America's fastest growing e-commerce companies and parent of http://www.MySafetySign.com, http://www.MySecuritySign.com, as well as over 50 other sites.
Traditionally, signs with the right message have been hard-to-find, hard-to-design and hard-to-order. By positioning "Signs as Solutions", SmartSign has taken an entirely different approach. Through highly targeted, yet content-rich and authoritative sites, the company provides specific solutions to specific problems - such as keeping property safe and secure. "We take the agony out of finding and ordering your perfect sign" - Blair Brewster, SmartSign founder. Couple this with fast and free shipping, 3M warrantied signs that outlast fast-fading ink jet signs from competitors, the web's largest range of designs and a best price guarantee, it is easy to see why SmartSign has grown so quickly.
Check out the company's blog to learn about how signs relate to everyday life matters at: http://www.smartsign.com/blog/.
###