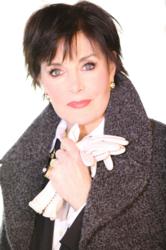 I have always believed that designing was my destiny; it was certainly my passion," says home design expert and television personality, Linda Dano
New York, NY (PRWEB) April 03, 2012
From the classic to the contemporary, America's "diva-of-style," Linda Dano is ready to unveil her Spring 2012 collection. The home design expert and television personality is scheduled to return to QVC® Monday, April 23 at 4 PM (ET) to offer the latest additions to the The Linda Dano Home Collection.
Citing her historically precise and restored 17th Century New England farmhouse and gardens as her muse, Dano's pieces blend brand new designs with the evolution of old favorites in new spring colors.
"The debut of my home line on QVC in 2007 marked a milestone in my professional life," says Dano. "I always believed that designing was my destiny; it was certainly my passion. The invitation to go beyond fashion has allowed me to develop a line of home accessories that complement the lifestyle, aspirations and budgets of QVC shoppers."
Dano's career as a designer and decorator has always run parallel to her careers as an Emmy Award winning actress, talk-show host, author and advocate for women's health issues. Her celebrity clients encouraged her to bring her talents to a wider audience. Since its launch, The Linda Dano Home Collection has always stood for affordable, quality-driven home accessories, linens and floor coverings expertly crafted for QVC.
Inspired by the craftsmanship of our early ancestors, Dano has gained further direction from a surprising source -the input and encouragement of her fans. In constant contact through Facebook, Twitter, Pinterest, YouTube, her official website (http://www.LindaDano.com), an e-newsletter and blogs on QVC, her fans turn to her as a trusted advisor. They let her know when she's on the right track to meet their lifestyle.
Leading up to an on-air appearance, Dano decorates the QVC sets to showcase her vision and demonstrates how each of her pieces can create or improve a home that should ultimately be a sanctuary. This allows her to give viewers easy-to-follow techniques and showcase her talent as a leading design expert.
NEW pieces from The Linda Dano Home Collection include:
Prices range from approximately $20.00 to $300.00
Linda Dano Power Loomed All-Over Paisley Rugs
Available in four colors
QVC Item #H192050
Set of Two Vintage Metallic Steamer Trunks
QVC Item #H193473
Three Piece Reversible Cotton Coverlet
Available in three colors and three sizes
QVC Item #H195975
Set of Two Royal Crest and Coat of Arms Pillow
QVC Item #H195693
Bending Tulip 55" X 70" Hanging Wall Art
QVC Item #H195788
Linda Dano Faux Croc Storage Ottoman with Nailhead Design
Reversible Top – Available in two colors
QVC Item #H195718
Set of Two Faux Croc Nesting Storage Boxes
QVC Item #H195719
Set of Two Wooden Display Pedestals
QVC Item #H195722
Linda Dano Set of Two Submersible 9" Wire Aqua Lights
QVC Item #H193746
A QVC veteran, Dano first appeared on air in 1993 with her fashion and beauty collections. She also offered both of her non-fiction best sellers Looking Great….It Doesn't Have To Hurt and Living Great (GP Putnams Sons) with the multimedia retailer.
With leading roles on NBC and ABC, Dano left the world of soap operas in 2004. She now travels the country as an advocate for women's issues including Alzheimer's disease, Osteoporosis and the need to better understand clinical depression. National television appearances include Larry King Live, Good Morning America and The View.
Dano has recently made guest appearances on prime time soaps including: Desperate Housewives and What I Like About You. She starred as Jennifer Connelly's mother in the Focus Features Film Reservation Road and on-stage as "Mame Dennis" in MAME and "Kate" in A.R. Gurney's SYLVIA. This multi-talented actress, designer and author is also the President of Strictly Personal, a New York based design consulting firm.
Linda Dano's Fashion File features appears in Soap Opera Digest Magazine and her blogs on home design appear on http://community.qvc.com/blog/lindadano
The official Linda Dano website is http://www.LindaDano.com
New additions to the The Linda Dano Home Collection will be available through QVC starting April 23 at QVC.com or 1.800.345.1515.