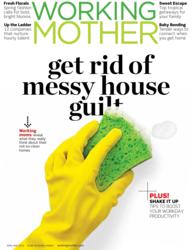 Working Mother Media Editorial Director Jennifer Owens says, "This year's Best Companies exemplify best-practices workplaces and cultures to help female hourly workers thrive."
New York, NY (PRWEB) April 03, 2012
Working Mother magazine today released the "Best Companies for Hourly Workers" for 2012, awarding those employers that have the best policies and programs for promoting women and a dynamic work-life culture. Best Buy, Capital One, Hilton, Marriott and Target are among the 12 companies that made the list.
The survey, conducted by the Working Mother Research Institute, found that women at the winning companies earned 56% of all promotions from hourly non-manager to non-exempt manager positions at the winning companies. One hundred percent of the winners offered their hourly workers personal and family health insurance benefits.
Jennifer Owens, Editorial Director of Working Mother Media, says, "This year's Best Companies exemplify best-practices workplaces and cultures to help female hourly workers thrive. Most of the companies use the 70-20-10 rule: Focus 70 percent of your time on getting on-the-job experience, 20 percent on developing internal relationships and networks and 10 percent on formal training."
Here are the Best Companies for Hourly Workers of 2012:
Best Buy Richfield, MN
Bon Secours Virginia Health System Richmond, VA
Capital One Financial McLean, VA
Cricket Communications San Diego, CA
Hilton Worldwide McLean, VA
Marriott International Bethesda, MD
PetSmart Phoenix, AZ
Sodexo Gaithersburg, MD
Target Minneapolis, MN
University of New Mexico Hospitals Albuquerque, NM
University of Wisconsin Hospital and Clinics Madison, WI
Valassis Communications Livonia, MI
Over the last year, the percentage of winning companies with formal compensation policies to reward managers who help hourly employees advance more than doubled, to 67% from 25%. A full 100% of the companies offer flexible work arrangements, and 79% of full-time hourly employees have access to them. On average, 73% of hourly workers at these Best Companies use flextime, up from 68% in 2011.
A majority of the Best Companies offer career advancement opportunities, including technology training and supervisor/team leader preparatory training. Nine out of 12 offer mentoring, career counseling and vocational skills training.
The full results of the WM Best Companies for Hourly Workers report can be found at: workingmother.com/wmhourlyworkers. Please visit us on Twitter (@_workingmother_ and @BestCompaniesWM) as well as at facebook.com/workingmother. Working Mother is owned by the Bonnier Corporation.