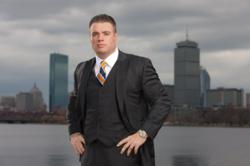 Las Vegas, Nevada (PRWEB) April 02, 2012
WMX Group Inc. confirms it will be moving from the Frankfurt Stock Exchange to the OTC BB in the US this month. Chairman & CEO of WMX Thomas Anthony Guerriero said, "This is truly a historic event, it is a very exciting time for WMX. We are looking forward to making this strategic move this month and expect this to be significant in adding new companies to our portfolio for many years to come".
WMX Group, Inc. is a conglomerate holding company that manages several subsidiary companies from around the world. The company faces a very stimulating global environment and tremendous growth opportunities. WMX has in the past taken positions in publicly quoted stocks, but more recently has turned to buying majority interests in whole companies. The company now owns an interest, whether wholly or part, in a diverse range of companies giving it a broad diversification across a plethora of industries. WMX Group, Inc. is an ISO Certified Company and a member of: The Agricultural & Applied Economics Association, Canadian Agricultural Economics Society, The International Association of Agricultural Economists, International Food and Agribusiness Management Association, Food Distribution Research Society, and The Cambridge Chamber of Commerce. WMX is the parent company to the World Mercantile Exchange (wmxtrade.com).
REGISTER TO JOIN OUR MAILING LIST AT http://www.WMXGROUP.COM
Safe Harbor for Forward-Looking Statements
This press release contains forward-looking statements within the meaning of Section 27A of the Securities Act of 1933, as amended, and section 21B of the Securities and Exchange Act of 1934, as amended. Readers are cautioned not place undue reliance on these forward-looking statements, which are only predictions and only speak as of the date hereof. Forward-looking statements usually contain the words "estimate," "anticipate," "believe," "plan," "expect," or similar expressions and are subject to numerous known and unknown risks and uncertainties. These risks and uncertainties could cause the Company's actual results to differ materially those indicated in the forward-looking statements.
Investors are encouraged to carefully review regulatory filings prior to investment consideration. Past performance is no guarantee of future success or that there cannot be losses or business interruption. The Company is in a rapid growth sector that may or may not continue to grow in the future and therefore poses risks that may be different than other investments. Management regularly provides news and additional information believed to be true and accurate at the time of dissemination but has no requirement to modify, comment or change in the future should circumstance change or information prove to be inaccurate for any reason. Additionally, the Company makes every effort to comply with all applicable laws.
Contact: info(at)wmxgroup(dot)com