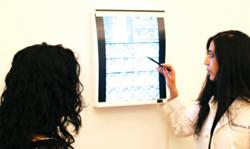 Living Well Medical is an integrated practice that specializes in non-operative, minimally-invasive treatment of the spine and joints.
New York, NY (PRWEB) April 01, 2012
There are roughly 100 million Americans suffering from chronic knee pain, and some people will have bouts with chronic knee pain for a very long time. New Yorkers now have even easier access to a safe, natural, long-term solution. Supartz® is a minimally-invasive, non-narcotic injectable compound that mimics and bonds with the knee's natural lubricating fluids to eliminate friction and pain in the joint caused by bone and tissue deterioration. Supartz® is approved by the FDA for the treatment of joint pain and osteoarthritis.
Knee pain can develop from untreated injuries, ongoing arthritis, excessive body weight, and even regular wear and tear of the joint. One of the most well known and highly regarded medical practices in Manhattan, Living Well New York has treated a diverse group of patients of different age groups, fitness levels and occupations suffering from knee pain.
Some clear-cut symptoms of chronic knee pain that requires treatment include:
Frequent use of over-the-counter or prescription medications to control knee pain
Inability to go up or down stairs due to knee discomfort
Difficulty walking or exercising
Restriction of normal activities because of knee aches
Non-responsiveness to other medications or procedures
Hesitation to engage in everyday activities because of fear of pain
Patients considering knee replacement surgery or have unsuccessfully undergone other treatments for knee pain, may find great results and pain relief from talking to their doctor to determine if Supartz® injections are a viable option to treat their pain.
Living Well New York is an integrated practice that specializes in non-operative, minimally-invasive treatment of the spine and joints. Patients suffering from osteoarthritis or joint pain will greatly benefit from one of the pain relieving injections available at the practice. Supartz® injections are a truly revolutionary non-surgical, non-narcotic long-term solution for chronic knee pain. Additional treatments performed by Living Well New York's Pain Management specialist Dr. Desai also include several alternatives to back and neck surgery such as epidural steroid injections, facet joint nerve blocks, and more.
The cutting edge practice also offers the latest in sports medicine therapies, including regenerative injection therapy, prolotherapy, and PRP (platelet-rich plasma). The doctors at Living Well New York prefer a multidisciplinary approach to pain management; they work alongside an acupuncturist, physical therapists, chiropractors, and MD's, to provide traditional medical care along with other various forms of alternative medicine to optimize the treatment of pain. As stated by Dr. Desai, "to heal the body and rid oneself of ailments, it takes discipline and determination. A combination of healthy lifestyle, diet and exercise, in addition to a regimen of physical therapy and good medical care, can achieve great pain relief."
Dr Desai works with a team of medical specialists that include NYC's top Chiropractor Dr. Steven Shoshany as well as physical therapists and massage therapists. This integrated method of treating patients using many medical disciplines means unparalleled results for patients. An integrated approach to treatment means that a patient that may otherwise find no relief in one method of treatment can quickly advance through pain management, to physical therapy to and can look forward to long lasting relief. Much like Dr. Desai, Dr. Shoshany believes in treating the cause of pain and not just relying on pain medication. His patients undergo chiropractic adjustments, massage, acupuncture, or IASTM (Instrument Assisted Soft Tissue Mobilization) like the Graston technique, along with physical therapy and massage. At Living Well New York providing pain relieving injections ensures that even patients that are unable to undergo physical therapy or chiropractic treatment can find pain relief.