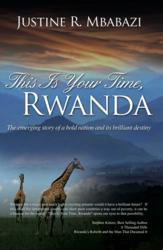 This book not only tells where we were, but lets the entire world know where we are headed. Interviews are welcomed because we are doing great things.
Pearland, TX (PRWEB) April 02, 2012
"Genocide in Rwanda is over, we are progressing steadily," is the clear message from international lawyer Justine Rukeba Mbabazi's new book "This is Your Time, Rwanda, Emerging Story of a Bold Nation and its Brilliant Destiny." Despite the gloom, doom and constant defining of Rwandan people, by the media, of its genocidal past, Mbabazi delivers victorious stories of courageous people that are not only rebuilding their country, but over the last 17 years have successfully rebuilt the country into a thriving metropolis. These stories are rarely picked up by mainstream media and Mbabazi's goal is to change all of that.
During this time of commemoration Mbabazi seeks to hearld the message that on the 18th Anniversary of Genocide Against the Tutsi, the country is more dynamic than ever. She is the first Rwandan to write a book about Rwanda's progress after the genocide . Citizens of the country have supported her efforts and she is looking forward to having the book available at various commemoration services. "This book not only tells where we were, but lets the entire world know where we are headed. Interviews are welcomed because we are doing great things." says Mbabazi.
As an international lawyer and a international development practitioner that has traveled the globe and been responsible for legal reforms and gender equality measures, Mbabazi is amazed at how little people know about the strides the nation has made. People still ask "Where is Rwanda?' or even more tragically, "What is genocide?" "Today the country is ranked as a number one country in the world with 56% women in the parliament and the other decission making levels. We were rated one of the best nations to be born a girl and our children are being equipped to become technological leaders through the One Laptop Per Child Program developed by our inspirational President Paul Kagame. We can no longer be defined by genocide against the Tutsi, we are so extremely far beyond those horrendous days," says Mbabazi.
According to one reader, Dr. Devkumar R. Sainani, chairman of The SAINA Group of Companies in Canada, "The book is an incredibly emotional journey of the birth, death and rebirth of a nation and of a people....she focuses on the hope of a nation to be able to put the past behind it, and to embrace a future full of promise, and achieve a better life. It is an enlightening and honest look at a journey from darkness back to light." Professor Emeritus and reknown author Howard Adelman of York University writes that Ms. Mbabazi has chosen to focus on the Rwandan people, pay great tribute to people responsible for the resurrection of the country which includes ordinary citizens that have labored to make the nation brilliant. He states,"This is a love story. It is also a story of national rebirth in which the spirit of our nation is destined to be victorious.
The story that begins with atrocities, rape and the murder of a million people in a hundred days is a narrative of a phoenix arisen from the ashes..." The world needs to know that Rwandan people are resilient, honest, brilliant, and beautiful. Though they never will be able to forget their past, they have in mass forgiven and forged a thriving economy and birth a spirit of entrepreneurship like no other developing nation. According to Mbabazi the tireless efforts of the people, their commitment to the nation as partners with the government and their urgent agenda to bring their youth to social and economic excellence has "made the nation into a paradise in a very short time," and she declares that the people are "unstoppable and hope for the nations."
Mbabazi challenges the international community and the media to give prominent coverage to the thriving nation and help them to redefine their national image so that struggling nations will have hope. According to Mbabazi no nation should experience the horrors of genocide, ethnic divisions and gender inequality, but many will fall victim unless someone shows them a better way.
Rwandan people have clearly proven that they know the way from tragedy to triumph and from victim to victory. "This Is Your Time, Rwanda. Emerging Story of a Bold Nation and its Brilliant Destiny," was released in March 2012. Books will be available at the event on the Georgetown University Campus in Gaston Hall, at 37th and O Streets NW. Washington, DC 20057.
For more information on Justine Mbabazi visit her website, http://www.justinembabazi.com. You may also contact her publicist, Linda Leon at info(at)mvpmedia1(dot)com.