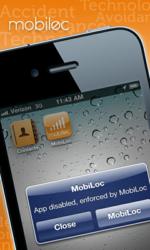 MobileLutions can provide our customers the peace of mind that their employees are safe while in route to make a delivery, says Dale Wilson, of VGM Technologies' Fleet Solutions
Dallas, TX (PRWEB) April 26, 2012
VGM Group, Inc., of Waterloo, Iowa, has signed with MobileLutions to use MobiLoc, a software application preventing distracted driving caused by smartphone usage on Blackberry, Android and iPhone.
VGM's core business is buying alliances for home medical equipment providers and the golf, private club and restaurant industries. It offers many ancillary business services to thousands of members throughout the U.S. and Canada.
"MobileLutions can provide our customers the peace of mind that their employees are safe while en route to make a delivery," says Dale Wilson, of VGM Technologies' Fleet Solutions. "With this contract, VGM customers will benefit from an affordable technology solution to help enforce their unique cellphone policies."
MobileLutions' technology allows customers to quickly come online, create and customize the cellphone policy rules they need for their specific company. With a centralized portal and corporate level control, the MobiLoc product can monitor and enforce a policy by company, department or specific cellphone.
"The VGM Group is a very forward-thinking company. Not only is VGM offering MobiLoc to their customers, they are also offering it to their employees and families," said Larry Eppard, MobileLutions founder.
MobileLutions is a leader in providing software solutions to prevent distracted driving accidents and reducing corporate exposure to this risk. The MobiLoc solution is built to enforce and monitor company a cell phone policy across the organization for a standard enforcement. The solutions is available on the iPhone, Black Berry and Android smartphones. See more at http://mobilelutions.com.