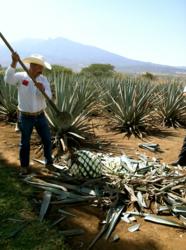 No Mas! offers a great dining experience, a great shopping, and a great tequila tasting experience - bringing the Best of Mexico to Atlanta.
Atlanta, GA (PRWEB) April 01, 2012
Tequila classes at No Mas! are fun, educational and may even change the way you think about tequila. Forget your college party memories of that fiery shot chased down by a lime and get ready to really to enjoy the flavor of Tequila. Mild, sweet, and sipping are unusual terms to most for the description of Tequila – a few of the things being taught in Tequila Tasting classes at No Mas! The tastings are offered on Saturdays at 3pm and 6pm and are by reservation. The special area is well appointed with décor and even jewelry made from the local volcanic glass "Obsidian" that is a defining characteristic of Tequila's landscape.
The tour starts with a skinny margarita, the "Santos Classico." This signature No Mas! drink is made with blanco tequila, Grand Marnier, Cointreau and fresh lime juice. The instructors guide you through a series of blanco, reposado, and anejo tequilas as each is paired with small plates prepared by the chef.
The course is then completed as you wander through the amazing collection of artisan produced products from Mexico in the No Mas! Hacienda showroom next door. The class includes a special discount to make your shopping a little more fun, and if you choose wisely, it can far exceed the cost of the tasting.
The Tequila tasting classes were initiated at No Mas! by Scoutmob (a local company similar to Groupon) as a "handpicked" favorite, and have now become a permanent offering. "There are so many restaurants in Atlanta to choose from, but I feel people today are looking for more of an experience," explains MacNeil, co-owner. "When you come to No Mas!, you can count on finding all the best that Mexico has to offer, and now you can learn how to enjoy the best of tequila."
Reserve your Tequila Tasting now at 404.574.5678. More information can be found at http://www.NoMasAtlanta.com.
No Mas! Hacienda & Cantina, The Best of Mexico - Restaurant & Shopping, in historic Castleberry Hill, downtown Atlanta's Art District, just half a mile south of CNN. Award winning Mexican restaurant and adjacent huge showroom of handcrafted furnishings, accessories, gifts, & jewelry from more than 300 artisans in Mexico, with breakfast daily in ADios Cafe, and "All the Pottery in the World" in Bodega Garden.