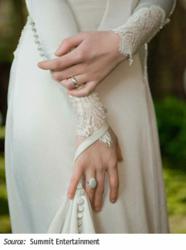 We're proud to have preserved a variety of wedding gowns for many well known celebrities
Binghamton, NY (PRWEB) April 06, 2012
As "Twilight: Breaking Dawn" DVD and Blu-ray sales top the series previous installment, "Twilight: Eclipse", the buzz around the movie is beginning to heat up once again. One of the unsung heroes of the movie, Bella's exquisitely fashioned wedding dress, has become a trending topic as brides begin preparations for spring and summer weddings.
With the exception of Kate Middleton's big to-do, watching Bella officially choose the vampire over the werewolf has been one of the most anticipated moments of the year for teenage fans across the country. The movie's trailer left many wondering what a girl is to wear when marrying a 100+ year old vampire in front of his vampire family. The answer is, of course, a wedding gown designed by none other than Carolina Herrera, fashion designer for the stars.
In a recent article published by Town & Country, Carolina stated that lead actress Kristen Stewart was "visually emotional" when trying the dress on for the first time. Whether this response was due to the fact that the actress was caught up in the thought of wearing her own wedding dress someday, or whether she was just getting into her role, is left to our imaginations.
The gown Carolina exclusively crafted for the latest in the Twilight series features an open back design adorned with delicate lace as well as quarter length laced sleeves giving the gown a distinct "vintage glamour" feel. After Carolina finished the dress, she presented it to the production team where it received the nod of approval from Twilight series author Stephenie Meyer. "It's such an interesting mix," Meyer told USA Today. "It has a vintage feel, but at the same time, there's an edge to it. It's really beautiful. And then on Kristen - oh, she looks amazing in clothes - and in that dress she's so lithe and unbelievable."
Carolina is no newcomer in the fashion world having created timeless garments for the likes of Christina Hendricks and Kathleen Turner. In Carolina's own, always elegant words:
"We did three fittings. When she initially put on the dress and looked over her shoulder into the mirror, she was very moved. In that moment she was not an actress or a character in a film but instead a bride, and a happy one at that."
What happens to a famous gown worn on a movie set after production wraps up?
"Normally every famous textile from a set is cleaned and preserved to not only remove any stains acquired while filming, but also to prevent future yellowing of the fabric", said Leah McCoy, the owner of MyGownPreservation.com. "We're proud to have preserved a variety of wedding gowns for many well known celebrities as well as lavish garments from television shows such as Dancing with the Stars."
Will the production crew be getting this particular dress from "Eclipse: Breaking Dawn" cleaned or preserved?
"More than likely, no," says Leah, "We're certain every little spec of dirt or sweat mark will be cherished forever by the star-struck fan lucky enough to acquire the dress in the event it is auctioned off".
About MyGownPreservation.com
Those mere mortals who aren't especially interested in cherishing their own sweat marks and dirt stains can visit http://www.mygownpreservation.com to order their own Wedding Gown Preservation Kit. You might not be a celebrity yourself, but you can treat your dress like one with a premium wedding dress preservation from their team of experts.