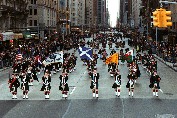 This year's program reflects the Year of Creative Scotland and is filled with music, theater, art and culture in all forms.
New York, NY (PRWEB) April 03, 2012
The American-Scottish Foundation® announces a series of events as part of the annual celebration of SCOTLAND-TARTAN WEEK 2012 April 6th to 14th, reflecting the central message of the Year of Creative Scotland.
The week begins on April 7th with the Scottish Government sponsored Scotland Run which takes place in Central Park - whilst on Ellis Island festivities will also be under way.
On Tuesday April 10th, ASF hosts with the Museum of American Finance, Wall Street, "The Life & Legacy of Andrew Carnegie" . A distinguished panel which includes such lumanaries as Anthony Marx, President, New York Public Library; Vartan Gregorian, President, Carnegie Corporation and Peter Krass, award winning author of Carnegie - will discuss the influence of Carnegie then and now in the third of the ASF series :"Great Scots". The evening will conclude with a receptiion and the opening of an exhibit spotlighting Carnegies philanthropic legacy.
Wednesday April 11th sees Scotland's vibrant music scene reflected in the arrival in New York of the Winners of The Big Apple Tartan Clef Award 'SONG OF RETURN'. The band make their US debut at Joe's Pub at the Public Theater.
The Big Apple Tartan Clef Award recognizes Song of Return as the freshest new musical talent in Scotland and is presented by ASF in association with Creative Scotland and Nordoff Robbins Music Therapy Scotland.
Appearing alongside them is the stunning PHAMIE GOW who unique blend of harp and piano takes the celtic classical to contemporary innovation.
There are diverse events throughout the week - at 59E59 Theater two new Scottish plays will open A SLOW AIR, Written and Directed by David Harrower and FEDERER VERSUS MURRAY by Gerda Stevenson.
Scotland-Tartan Week recognizes the outstanding achievements and contributions made by Scottish Americans to the United States. On Friday April 13th, ASF as the New York State Representative of Tartan Day will host a Tartan Day Observance at 12.30pm at Dag Hammarskjold Plaza with musical preformance from Mike Oglotree and reading by Gerda Stevenson from the
The Declaration of Arbroath which was signed on April 6th, 1320. Some 678 years later, in 1998, Senate Resolution 155 was passed, designating April 6 as National Tartan Day "to recognize the outstanding achievements and contributions made by Scottish Americans to the United States".
Scotland-Tartan week conclude on Saturday April 14th with the 14th Annual Tartan Day Parade up Sixth Avenue from 44th Street. The American-Scottish Foundation, a founding partner in organizing the parade will be piped up the Avenue by the New York Metro Pipe Band.
Later that evening members of NY Metro Pipe Band will pipe in Phamie Gow into the Mercury Lounge as she takes to the stage at 7.30pm followed by Song of Return at 8.30pm concluding their first visit to New York and a great week of Arts and Culture, Heritage and Pride.
Please visit our website for further details : http://www.americanscottishfoundation.org
or contact us Tel : 212 605 0338 x 4 Email : asfevents(at)wwbcny(dot)com
Camilla G Hellman Emma Robertson-Werner
_____________________FOOTNOTES _______________________
The American-Scottish Foundation® is :

A founding partner of the National New York Tartan Day Parade Committee :
Scottish Coalition, Treasurer and New York State Tartan Day Representative
ASF is dedicated to strengthening ties between individuals, institutions and businesses of Scotland and the United States.
The Foundation champions the extraordinary and creative relationship for mutual benefit, with an extensive program of projects and events - a bridge between the two great countries.
_______________________ DETAILS OF THE EVENTS NOTED __________________________
April 7th
Ellis Island
_____________________
April 10th
The Life & Legacy of Andrew Carnegie
Musuem of American Finance, 6pm
Tickets: $45 or free to Museum Members
_____________________
April 11th
Song of Return with Phamie Gow
Joe's Pub, 9.30pm (doors 9.00pm)
Tickets: $15
VIP Pre Show Reception - Butter Restaurant
Tickets: $75 (including gig ticket)
_____________________
April 13th
Tartan Day Observance, Dag Hammerskjold Plaza, 12.30pm
East 47th Street @ 1st & 2nd Ave
Tickets: Not required - this is a free event.
______________________
April 14th
New York 14th Annual Tartan Day Parade : 2pm
44th Street and Sixth Avenue
Tickets: Not required - this is a free event.
ASF Post Parade Reception, 3.30pm
Warwick Hotel, 55th Street & Sixth Avenue
Tickets: $75
Mercury Lounge : Phamie Gow : 7.30pm (doors 7.00pm)
Song of Return 8.30pm
Tickets: $15