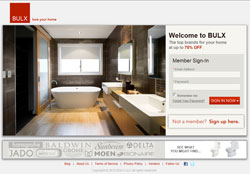 The acquisition of Bulx.com is a strategic and complementary fit, enabling DealYard.com to become a relevant player in the private sale marketplace
Westbury, NY (PRWEB) April 03, 2012
DealYard.com, a leading online retailer of brand name merchandise at discounted prices, announced today the acquisition of Bulx.com, an online private sale site of home improvement products. Bulx was created as the first flash-sale site catering to the $300 billion a year home improvement industry. Bulx will offer home goods including, faucets, hardware, lighting, flooring, sinks, vanities and more at up to 80% off retail pricing.
"The acquisition of Bulx.com is a strategic and complementary fit, enabling DealYard to become a relevant player in the private sale marketplace", said Rob Heller, co-founder and CEO DealYard.com. "DealYard.com's commitment to offering great deals and customer service, combined with the robust, scalable e-commerce platform we built, presents a long-term opportunity for DealYard and Bulx to grow in the online retail space", said Rob Emrich, co-founder of Bulx.com. To celebrate the acquisition, members that refer and "Invite" a new customer to share in the great savings will get a $25 credit on any future purchase.
This acquisition leverages DealYard.com's ability to source home improvement products at deeply discounted prices and handle the fulfillment process from their warehouses. "We differentiate ourselves from other flash sale sites by owning the entire inventory we offer for sale. This gives us a competitive advantage knowing the inventory is actually available for sale and that we can ship the order out the same day it is placed ", said Heller.
About DealYard.com
DealYard.com, founded in 2003, has been committed to offering first quality brand name closeout and overstock merchandise at deeply discounted pricing. DealYard sells products in many different categories including, Bed & Bath, Kitchen, Health & Beauty, Sporting Goods, Sunglasses, Home Improvement etc. DealYard.com has been ranked in the Top 5000 fastest growing private companies in America according to Inc5000 and is #634 in Internet Retailers list of the Second 500.
(For more information about DealYard.com, please visit http://www.dealyard.com )