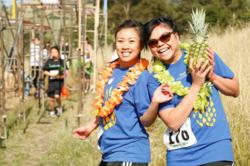 San Jose, CA (PRWEB) April 02, 2012
The Leukemia & Lymphoma Society's (LLS) Silicon Valley & Monterey Bay Area Chapter creates a unique kind of physical challenge with the second annual Pineapple Classic 5k. This family-friendly, Hawaiian-themed run with obstacles will be held on June 9, 2012 at Joseph D. Grant County Park on Mt. Hamilton Road in San Jose, starting at 9 a.m.
After the race, participants will enjoy a luau, Pyramid Brewery Beer Garden and Hawaiian entertainment. Prizes will be awarded for fastest times and best costumes. In return, participants are asked to raise funds to help LLS advance lifesaving cancer research and patient services.
"Where else can you be entertained by watching wild, costumed participants tackling terrain and obstacles, after which you enjoy a tasty Hawaiian luau cuisine, beer garden and hula dancers, all the while feeling great that the entire experience is raising vital funds to support life-saving cancer research?" says Meghan Heath, Campaign Manager for the Pineapple Classic 5K. "It just doesn't get any better!"
Participation in the Pineapple Classic 5k is open to everyone age eight and older. Participants race in teams of two or four, and those who need teammates may register individually and will be placed with a team.
Event sponsors include Silicon Valley Bank, Citrix, and Adobe. These companies also hope to launch employee challenges to fan the flames of competition – both philanthropically and physically.
The entry fee is $60 for individuals; $110 for two-person teams; or $200 for four-person teams. Participants are also asked to raise a minimum of $50 to support lifesaving cancer research.
The Leukemia & Lymphoma Society ® (LLS) is the world's largest voluntary health agency dedicated to blood cancer. The LLS mission: Cure leukemia, lymphoma, Hodgkin's disease and myeloma, and improve the quality of life of patients and their families. LLS funds lifesaving blood cancer research around the world and provides free information and support services.
Blood cancers are the second leading cause of cancer deaths in the United States. LLS funds more blood cancer research than any other volunteer health agency. Many LLS supported discoveries help beyond the blood cancer patients for whom they were first developed.
To register or learn more regarding this exciting event, visit http://www.PineappleClassic5k.org or call 408.490.3117