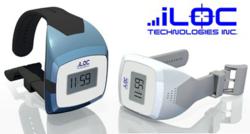 Montreal, Québec (PRWEB) April 02, 2012
iLOC Technologies Inc. (iLOC) announced today (World Autism Awareness Day) the upcoming launch of its newest product, the TRiLOC™ GPS locator. Over 2 years of research resulted in a unique blend of cellular, GPS and Bluetooth 4.0 wireless technologies, while maintaining an aesthetic design, simplicity and long battery life. Designed specifically to be wrist worn by individuals with special needs such as Autism Spectrum Disorder (ASD) and Alzheimer's disease, the TRiLOC™ GPS Locator can also be used by women in distress, lone workers, cruise ship & theme park patrons and many other applications.
"The reasons for developing the TRiLOC™ GPS Locator resulted mainly from discussions with parents who also have a child with ASD. They often expressed how they couldn't find a suitable GPS tracking product and described the stress felt every day that their child may become lost, run off or wander, possibly getting injured or worse. Some spend hundreds of dollars in gas every month looking for their child. The features, functions and technologies implemented into TRiLOC™ were carefully chosen based on the direct feedback and recommendations from parents and care givers who live with these stresses on a daily basis" says Tony Fama, iLOC President and CEO.
In the USA and Canada, there are over 500,000 individuals with ASD (1 in 88 children), and over 5.5 million seniors suffering from Alzheimer's disease, growing by 5 and 10 percent year over year respectively. Globally, over 30 million individuals suffer from ASD or Alzheimer's disease. According to an on-line poll, over 90 percent of children with ASD will elope from a safe environment (AWAARE) and over 60 percent of people with Alzheimer's disease will wander, which can lead to situations endangering their lives. On average there's a little more then 2 persons providing care for every special needs individual, amounting to over 60 million parents and care givers worldwide. The intent of the TRiLOC™ GPS Locator is to provide those care givers and parent's peace-of-mind, allowing them to reduce or minimize the need for constant supervision, allowing children to play more freely, or teenagers and adults to enjoy more autonomy and independence.
"We've managed to combine a high level of wireless data and voice technology into a small package while meeting regulatory and wireless industry standards", says Yves Messier, iLOC CTO. The TRiLOC™ GPS Locator provides advanced outdoor and indoor locating capability and incorporates Bluetooth 4.0 technology to communicate with remote health monitoring, smart home and electronic security devices. The locator also supports bi-directional voice communication so that in an emergency, the parent or care giver can call the individual wearing the locator to rapidly assess the situation.
About iLOC
iLOC Technologies Inc. is a privately held corporation located in Montreal, Canada. Its mission is to provide leading edge, cost effective and innovative personal safety & security products and services that promote end user peace-of-mind. iLOC value's its customers and reseller's and communicates its appreciation through continuous product innovation, consistent quality and outstanding service that exceeds customer expectations. The iLOC Executive Management Team members are all directly or indirectly connected to persons with special needs and are committed to making a difference for them and for the parents and care givers of those persons.