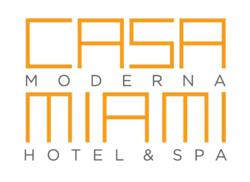 Casa Moderna Miami is sure to quickly become synonymous with Miami luxury in terms of accommodations, dining and overall style.
Miami, FL (PRWEB) April 02, 2012
On March 1st 2012, Tempo Miami became Casa Moderna Miami, a modern hotel destination overlooking Biscayne Bay. The renaming and rebranding directly coincided with the launch of the hotel's sleek and stylish new website and matching mobile site.
The sophisticated website aims to keep visitors connected to the pulse of Miami and ongoing hotel happenings. Guests can easily book accommodations on the new user-friendly booking engine while checking for specials and staying in touch with Casa Moderna events. In addition to high-res images and a calendar functionality, the site includes a comprehensive Explore section, providing additional information about key Miami attractions such as the American Airlines Arena where the Miami Heat play.
Casa Moderna Miami features 56 plush guestrooms and suites, a 14th floor Sky Pool Deck, an 8,000-square-foot spa and fitness center, gallery event space, and a stunning location near South Beach and the Port of Miami. The hotel is ideal for business travelers, leisure travelers and romantic getaways with ultra-chic details like the hotel's new House Car, a White Pro Escalade with Platinum Package and Coco Brown leather Interior.
In addition to a new name and website, Casa Moderna's onsite restaurant, Amuse, is also pleased to introduce their new Executive Chef and unveil a "Secret Ingredient" mobile-only promotion. Executive Chef Kenneth Williams features an innovative menu prepared with locally grown, fresh ingredients. Diners are invited to indulge in a new take on American fare as created in Williams' prosperous career as Chef de cuisine at Fisher Island Club, Chef de partie at Gotham Steak, and Executive Chef at various other prominent resorts.
To celebrate this exciting new culinary journey at Casa Moderna, throughout the month of April, prospective diners and guests are encouraged to text "fresh" to 84700 to receive a secret coupon for a complimentary Tea Forte cocktail. This signature cocktail is mixed from a pyramid of natural teas infused with spirits. The spirits serve to extract the tea's flavors and colors which swirl into this unique cocktail, available only at Amuse Restaurant and Lounge.
"There is much to celebrate in Biscayne Bay with the launch of the Casa Moderna Miami website and the appointment of our sensational new Executive Chef, Kenneth Williams," said Matt Fenn, General Manager. "Modern and mesmerizing, Casa Moderna Miami is sure to quickly become synonymous with Miami luxury in terms of accommodations, dining and overall style."
For reservations or additional information about Casa Moderna Miami, call (786) 369-0300. Users can also book through Facebook at http://www.facebook.com/casamodernamiami.
About Casa Moderna Miami:
Casa Moderna Miami is Miami's most luxurious new hotel, boasting 56 lush guestrooms and suites with views of beautiful Biscayne Bay. Experience an ultra-modern oasis for both business travel and leisure, located minutes away from the best of Miami attractions. Deluxe amenities at Casa Moderna include a 14th floor sky pool deck, 8,000 square foot spa and fitness center, and Amuse Restaurant & Lounge, making Casa Moderna Miami an optimal destination for Miami travel.