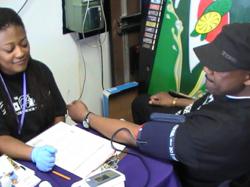 I think this is a great idea. I haven't been to the doctor in over 7 years.
Los Angeles, California (PRWEB) April 01, 2012
A recent commentary published in Ethnicity and Disease suggest that local barbershops can positively impact the health outcomes of African American men.
Promoting health and preventing illness among African American men, who die disproportionately from preventable diseases, is a challenging health disparity that has seen limited progress. However, focusing our efforts in places outside of traditional clinical and community settings such as the barbershop has shown promise for ameliorating these disparities. In particular, barbershop-based health promotion as conducted by the Black Barbershop Health Outreach Program has successfully reached nearly 10,000 men nationwide through a grassroots, volunteer-driven effort. At the same time, researchers have begun to conduct formal clinical trials in barbershops in order to explore interventions targeting this at-risk population. Herein, we describe, in brief a review of barbershop-based health promotion and the experience of this novel community-based organization. We argue for continuing to integrate evaluation and research using community-partnered principles into successful grassroots initiatives without dulling the practical impact of these programs is a crucial next step as we move beyond simply acknowledging health disparities and seek to find solutions.
"This program is unique in that it was conceived at the community level and is lead by health care providers that work everyday in communities at most risk of cardiovascular diseases and their complications," states Dr. Bill James Releford, program founder and podiatric surgeon specializing in diabetic limb preservation.
About The Black Barbershop Health Outreach Program
The Black Barbershop Health Outreach Program is the first initiative of its kind to exclusively address health care disparities in African American men on a national level. While medical advances and milestones benefit the general U.S. population, African American men experience the lowest life expectancy rate of any segment in American society. Undetected cardiovascular disease contributes to disproportionate mortality and morbidity among African American men. Forty percent (40%) of African American men die prematurely from cardiovascular disease as compared to 21% of white men. Black men suffer far worse health conditions than any other racial group in America. There are a number of reasons for this, including racial discrimination; a lack of affordable health services; poor health education, cultural barriers; poverty, employment that does not carry health insurance; insufficient medical and social services catering to black men.