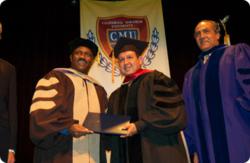 Maximum educational opportunities combined with most innovative instructional and technological advances.
San Diego, CA (PRWEB) April 02, 2012
California Miramar University is well known for academic excellence, convenient study formats, and wide variety of affordable graduate programs. CMU's MBA program was ranked one of the Top 10 in San Diego County by the San Diego Business Journal. Now busy professionals have a unique opportunity to bring their knowledge to the highest level and obtain Doctorate of Business Administration (DBA) degree without sacrificing their business needs.
DBA program at CMU is designed to provide business leaders with global perspectives and enhance their practical approaches based on the most sophisticated modern theoretical concepts. Doctoral studies offered in four areas of concentration: finance, international business, marketing, and strategic management. These key choices allow students to focus on what is meaningful to their professional growth and development.
The main objective of CMU's Doctor of Business Administration program is training scholars to develop and sharpen management theories to maximize their contribution to business education and practice. Students acquire advanced knowledge of literature and theory in their area of specialization. They are given specialized research skills that are essential for publishing in leading academic journals. Class projects and assignments lead to discovery of new knowledge and help students to find solutions to problems of today's ever changing environment.
Both, online and hybrid DBA programs at CMU are fully accredited and recognized by the U.S. Department of Education and the Council for Higher Education Accreditation. This high acclaim is due to the fact that all faculty members at California Miramar University are chosen not only based upon their academic qualifications, but for their desire to teach and share their first hand professional experience. They drive the University's innovative capacity as experts in their fields because of their combined academic and professional knowledge and expertise.
California Miramar University MBA program is focused on what makes businesses successful in all industries. Multiple case studies of businesses, large or small, highlight the unique advantages of each business and show how they contributed to the success. Students have the choice to learn on campus, online, or hybrid. The hybrid program is a combination of weekly class sessions and online study, which gives working professionals the flexibility to pursue their degree in more traditional format while still advancing in their careers. Students can access their classes from anywhere in the world. All programs offer year round enrollment.
California Miramar University also stands out for having the most affordable tuition. With interest free payments MBA students can actually graduate debt free. Dedicated to honoring military veterans and their families and approved by the United States Department of Veterans Affairs, California Miramar University offers tuition assistance and offers many benefits from the GI Bill. In addition, qualified military spouses are entitled to a 50% discount for the entire degree program. A special Military Education Unit has a dedicated team that understands the challenges of military life.
In addition to its MBA programs, CalMU also has several other programs that are eligible for Veterans Affairs benefits, including Masters in Strategic Leadership, Masters of Science Telecommunications Management, Masters of Taxation and Trade for Executives, and Bachelors degree programs, among others. Members of our military community are not required to pay the application fee.
Contact the Contact the Office of Admissions today to learn more and get started.
If you would like more information about this topic or to schedule an interview with California Miramar University, please call 858-653-3000 x12 or email info(at)calmu(dot)edu.