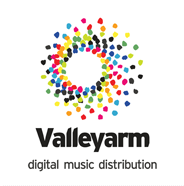 Asia Pacific is a very exciting place to distribute music for any label. - Gary McKenzie, Founder, Valleyarm
London, UK (PRWEB UK) 2 April 2012
The IFPI, the music industry's global trade body, are about to release the latest year-on-year sales figures. The numbers are by now depressingly familiar - music sales dropped in UK, Europe and North America. There is, however, a bright spot - music sales in Asia increased by over 6%.
Valleyarm, the leading digital music distributor in the Asia Pacific - with offices in Melbourne, Australia and Singapore - are proud to announce the opening of their second office in Europe. Joining their existing office in Berlin, they now have an office in London, headed up by Digital Music industry pioneer, Neil Cartwright (ex. Sony Music, The Orchard), to work with UK labels who want digital distribution of their music in one of the world's largest and fastest growing markets.
Valleyarm offer unrivaled music distribution in Asia Pacific. It confidently says this because Gary Mackenzie, the company's Melbourne-based founder, has spent 5 years visiting and signing direct agreements with over 200 retailers in countries such as China, Japan, Thailand, Singapore, Indonesia, Malaysia, Vietnam and Philippines. And furthermore, he knows he is the only guy who has done it. With typical Aussie candor he says, "Anyone who wants to match our Asian distribution will have to be prepared to run up thousands of air miles and thousands of hours building relationships with Asian based labels and services".
Many competing UK & US digital distributors who claim to offer 'global distribution' still upload music tracks to iTunes using English meta-data and then expect the local populations in Asia Pacific to know how to type & spell a band name or song title in English. Valleyarm is unique because it translates the meta data in to multiple languages so that on iTunes and other Asian services, people can search in their own dialect and characters.
In addition, it employs local staff who speak the regional languages and are located in the same time zone as the retailers in Asia Pacific. It can therefore market the latest releases better and gain those all-crucial home page placements for labels.
Gary Mackenzie says, "Asia Pacific is a very exciting place to distribute music for any label. In Jakarta, for example, the kids there are crazy for British mod tunes. In Singapore, Korea and Japan they love Jazz. And in Philippines, they're going crazy over rock and metal. While internet penetration isn't as high as Europe, mobile and 3G use is growing exponentially and we supply most major mobile networks in over 15 Asian Pacific countries."
In addition to distributing 'Western' music in to Asia Pacific, Valleyarm also supply over 2 million original artist tracks from over 1,000 Asia Pacific labels. "The Asia Pacific population is huge in Europe", says Gary. "Thai, Chinese, Vietnamese - a lot of the population of ex pats will still want to hear music from their homeland on download and streaming services and so we are looking for deals with forward thinking music services"