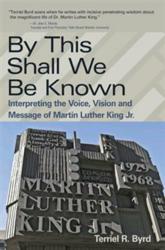 Lantana, Fla. (PRWEB) April 02, 2012
The new book by Terriel R. Byrd, "By This Shall We Be Known: Interpreting the Voice, Vision and Message of Martin Luther King Jr." (published by CrossBooks), will come as a surprise to some and as a long-awaited analysis to others.
"The inspiration for this book came as a result of seeing how little the spiritual ethos and faith commitment is highlighted when people speak about Martin Luther King, Jr.," says Byrd. "This is a rather amazing lapse of historical record, seeing the enormous impact the Black church, and more specifically the import of American Christianity, had on the Civil Rights movement."
Written for use in both academic and church institutions, "By This Shall We Be Known" offers readers insights in social justice, ethics, history and moral philosophy. Following the lead of King's reliance upon lucid and uplifting prose, Byrd has crafted a work that informs, avoids highly technical language and challenges without threatening his readers. He provides excerpts from key passages, places them in their historical context, and sketches out how their message speaks to today's world.
Critics of King are often perplexed by his optimism and nonviolent stance in the face of injustice. Byrd tackles this criticism head on.
"The realities of human suffering and deprivation did not hamper King's high degree of idealism," explains Byrd. "Nor did it interfere with his ability to believe that there was a solution to the problems beyond what his eyes could see. Inspirational faith was a key motivational aspect of the way King approached and dealt with the immense problems of social justice that confronted him."
Byrd also explores King's broader, less discussed work. "The book informs the reader about a unique aspect of King's life and thoughts. It embraces the evangelical side of King's ministry. It also expands King's work beyond American civil rights into global implications, leadership and education."
Impeccably researched, "By This Shall We Be Known" provides a look into the spiritual life of a celebrated American hero, leaving readers with a fact that, while obvious, often goes unexamined – "King recognized the personal nature of faith as something to be experienced and lived out."
About the Author
Terriel R. Byrd has 18 years of experience as senior pastor and has served as campus minister at two universities in Ohio. He currently is professor of Urban Christian Ministry Studies at Palm Beach Atlantic University in Florida and oversees its Evening Ministry program. In 2007, he received the Charles and Hazel Corts Award for Outstanding Teaching. Byrd is also the author of I Shall Not Be Moved: Racial Separation in Christian Worship.
CrossBooks, a division of LifeWay Christian Resources of the Southern Baptist Convention, is a Christian publishing imprint committed to bringing more Christian voices into the publishing industry. Established authors, first-time authors, and authors anywhere in between can meet their goals and fulfill their vision for their books by publishing with CrossBooks. CrossBooks' innovative style of publishing blends the best of traditional and self-publishing. While our authors contribute monetarily to cover the cost of publishing, we maintain a strict moral and quality standard that every manuscript must meet for us to publish. For more information on publishing your Christian book with CrossBooks, log on to crossbooks.com or call 1-866-879-0502.
###