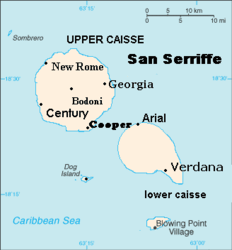 If they build it, I'm not coming
Bodoni, San Serriffe (PRWEB) April 01, 2012
Competing with near neighbours, the Seychelles and the Maldives, in the traditional tourism market, San Serriffe has developed an impressive reputation in the booming health and wellness sector. This small island nation with a population of 1.7 million has already achieved a 5.3 % share of the world global wellness market, according to the recent report, Global Wellness and Travel Trends 2011, and intends to treble this share within the next three years.
View the IMTJ Special Report on San Serriffe medical tourism.
A clear focus on target markets
The island has a very clear idea of its target markets. The latest plans involve the creation of a $2 billion medical city adjacent to Bodoni International Airport, consisting of two state of the art healthcare facilities: a 1,000 bed rehabilitation and care facility and a 500 bed orthopaedic centre. A research centre for stem cell treatment is on the cards for the future, if government backing can be secured. The island has learned a great deal from its previous medical tourism initiatives. "Treatment Afloat," a cruise ship based medical tourism venture was launched last year from Lower Caisse, the southern island of the San Serriffe archipelago. However, this venture is now under threat from cosmetic surgery patients who intend to sue as a result of poor outcomes from their breast enlargement surgery. One unhappy patient, Rita O'Malley from Dublin claims, "I started as a 32B and have ended up with one boob that's a 36C and another that's a 38DD." Treatment Afloat's surgeons say that performing a "balanced" breast enlargement in the heaving Southern oceans was "never going to be easy." The patient action group formed by Rita has appointed celebrity negligence lawyer, Vick Lorenzo of Mitchell-Mouse Solicitors, to head up a group action. Lorenzo has advised the group to sue in Panama (where the ship was registered), India (where the surgeons were trained and registered), Ireland (where the medical travel facilitator is based) and the USA ("because you can usually sue anyone for anything in the USA", says Vick).
Rehab centre will attract 80,000 patients
The 1,000 bed rehab centre will focus solely on the treatment of senile dementia. According to Stefan Renato, Head of the San Serriffe Medical Tourism Association (SSMTA), "We have done our research in depth and now know that the world is getting older. In twenty years time, there will be 80 million people worldwide suffering from dementia. We only need to convince 0.1% of these to live out their days on San Serriffe and we will be quids in."
Hip replacement… the right choice for San Serriffe
The orthopaedic centre will focus solely on hip replacement, but in a unique approach to maximising patient outcomes, it will only handle patients requiring replacement of the right hip. According to Fabio Bernasconi, Medical Director at the Bodoni Medical Center, research has shown conclusively that outcomes for right hip replacement are significantly better than for the left. The predominant right handedness of orthopaedic surgeons ensures a more accurate positioning of the prosthesis in the right hip, and hence a 10% reduction in post-operative pain and a lower incidence of implant rejection. "We really do want to offer the highest quality at the lowest prices," says Dr Bernasconi. "Focusing on the right hip will boost our success rates and give us enormous buying power on right sided prostheses."
Attend the conference, buy the magazine, get the perfume
The SSMTA has announced a conference, a consumer magazine, an industry publication, a consumer guide, a training initiative, a dedicated online forum, five levels of accreditation, a TV channel and a new range of cosmetics to mark the launch of San Serriffe Medical City.
View from the industry
This latest medical tourism initiative has met with a mixed response from industry experts. Loof Lirpa from medical tourism web publisher, Institution, has some doubts about the long term viability of the San Serriffe project. "If they build it, I'm not coming," he said. "I'm happy to turn up for the conference and do my guru thing, but would I fly to San Serriffe to have my legs waxed? I doubt it." Christos Christophides from Greece is philosophical about the chances of success. "There are some remedies worse than the disease. It requires a great deal of faith for a man to be cured by his own placebos," suggests Christos. "Smoking Joe" Forrester, from US consumer advice site "Patients Beyond Belief" is a little more positive, "Hey, go San Serriffe!" is his considered view.
Key to the success of the new venture will be patient confidence in the quality and safety of the healthcare facilities. A queue of eager healthcare accreditors has already formed outside of the government offices in Port Clarendon, headed by Moe Greene, of HQA Mersey. According to Moe, "If they want a rubber stamp, you can't buy better or cheaper than from us. Most of our rubber stamps are ex NHS which can't be bad…… Can it?"
Russian investment in medical tourism city
The San Serriffe initiative is being funded by a group of knowledgeable offshore investors from Russia and Kazakhstan who have reaped rewards from speculative ventures in UK premiership football clubs, a chain of lap dancing clubs in the Far East and SimStapler, the latest virtual stapling technology for iPhone, (Download SimStapler from iTunes).
The investors wish to attract some of the best brains in medical tourism to make it happen. Anyone offering skills or expertise that may be of benefit to San Serriffe is invited to request an information pack by email from SSMTA(at)yahoo(dot)com. Brief details of relevant experience and indicative daily consultancy rates should be included.
About IMTJ
International Medical Travel Journal is the leading business to business journal for the medical travel and medical tourism sector. IMTJ publishes a regular newsletter to around 15,000 people and providers involved in medical travel.
About San Serriffe
San Serriffe is an island nation in the southern oceans. Owing to a peculiarity of ocean currents and erosion, its exact position varies. A recent report locating it in the Bering Sea was presumably an error. On April 1, 2006 The Guardian reported that San Serriffe was then just off New Zealand's South Island, but if the rate of movement really is 1.4 km per year as published, San Serriffe should stay in the Indian Ocean for several millennia.
Download the Guardian Newspaper Special Report on San Serriffe