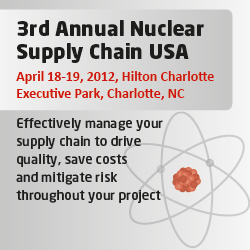 The 3rd Annual Nuclear Supply Chain Conference has come at the right time as it is bringing together the key utilities
(PRWEB) April 01, 2012
The successful management of the nuclear supply chain is currently the hot topic given the recent U.S NRC's approval of the Plant Vogtle construction and operating licence symbolising the start of a nuclear renaissance.
With 104 nuclear reactors in operation in the U.S. alone, 4-6 scheduled to come on line by 2020 including VC Summer and Vogtle, now more than ever is the time for Utilities and EPC Contractors to ensure that they have:
a) A well designed economic plant
b) A stable regulatory regime
c) Risk Sharing amongst project stakeholders and
d) Strong project Management
This cannot be done without the cooperation of the supply chain to establish efficient processes in the planning, workforce development, supply chain management, procurement engineering and operations stages of nuclear projects.
The 3rd Annual Nuclear Supply Chain Conference has come at the right time as it is bringing together the key utilities, EPC and OEM contractors to discuss the effective management of the supply chain to drive quality, save costs and mitigate risk throughout your project.
One-off presentations include:

President and COO, Shaw Power Group discussing potential impacts to the nuclear supply chain as the first two nuclear construction projects in 30 years ramp up
Vice President and Consortium Director, Westinghouse discussing what is expected from the supply chain on the VC Summer project
Deputy Federal Project Director ,MOX Fuel Fabrication Facility giving a project overview including their timeline for completion
Executive Director for Supply Chain, CENG discussing the new workforce development initiatives which are currently taking place to support the ageing workforce retirement
Director for Strategic Sourcing, Exelon giving the latest on full reverse initiatives and moving to alternative suppliers
This 2 day business critical conference is a must attend for any supply chain manager serious about streamlining their supply chain coordination to save costs and drive efficiencies throughout their project and, for any suppliers serious about securing work in 2012 and beyond.
Only 15 tickets remaining – register now using discount code PRESS100 to save $100 off the ticket price at: https://secure.nuclearenergyinsider.com/nuclear-supply-chain-conference/register.php