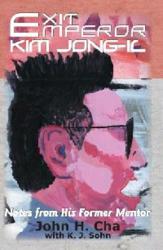 OAKLAND, Calif (PRWEB) April 01, 2012
Absolute power corrupts absolutely. It is this theme that drives authors John H. Cha and K.J. Sohn's new book, Exit Emperor Kim Jong Il (published by Abbott Press). "Life was good in North Korea during the 60s and 70s, in fact, superior to the life in the south," Cha explains. "However, one man's greed for power overshadowed all that North Korea had tried to achieve as an ideal socialist state."
Exit Emperor Kim Jong Il chronicles the life of Kim Jong-il, who passed away in December 2011, through the eyes of his mentor, Hwang Jang-yop, the first Korean ever to receive a Ph.D. in philosophy at the University of Moscow. As a young philosopher and later the president of Kim Il-sung University, Hwang believed in the Juche ideals, meaning self-reliance, which was a map to utopia for North Koreans. Unfortunately, the young and ambitious Kim Jong-il turned this Utopian manifesto into an instrument for his own rise to power. Hwang felt that Kim Jong-il's greed for power was responsible for the mass starvation in North Korea during the '90s and he wanted to tell the world about it.
"Hwang loved North Korea and its people. They are no different from anyone else. They just happened to be caught in a set of circumstances never before experienced by humankind."
Cha and Sohn's new book enlightens readers with an insider's view of Kim Jong-il by way of Hwang and other witnesses who were close to him. This is a glimpse into North Korea as a country, on why Korea supported Kim, and provides a three-dimensional view of dictator Kim Jong-il as never before.
About the Authors
Author and award-winning translator, John H. Cha, lives and writes in Oakland, California. He says, "I try to break down the complexity of the Korean issues, its history and culture, through biographical narratives of compelling individuals who I find interesting and honest."
K.J. Sohn, former reporter for a major newspaper in Korea, was a senior fellow at the National Intelligence Service of South Korea. He was the research secretary to Hwang Jang-yop.
Abbott Press, a division Writer's Digest—the oldest and most respected publisher devoted to the education and advancement of writers—is an indie-publishing imprint dedicated to helping writers bring their literary vision to print. Author Solutions, Inc., a leader in indie book publishing, will fulfill publishing, sales, and marketing services for Abbott Press. For more information, or to begin publishing a book today, log on to abbottpress.com or call 866-697-5310.
###