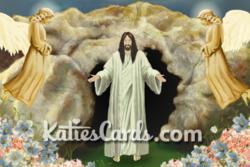 Launched in time for Easter, the Katie's Cards Competition offers entrants the opportunity to win a £100 ($150, €120) Amazon voucher, whilst also benefitting from a Katie's Cards ecard membership.
Teddington, Middlesex. UK. (PRWEB) April 03, 2012
Easter is almost here and to celebrate, Katie's Cards have released a new Biblical themed Easter e card and launched an exciting competition, offering entrants the chance of winning a £100 ($150, €120) Amazon voucher. The proposed UK postal stamp price increases have been viewed by Katies Cards as the perfect opportunity to showcase the company's range of animated ecards to people looking for a cost effective alternative to sending printed greetings. A new Easter ecard is now available on the website, so members can send spring greetings to all their friends and family for a fraction of the cost of printed cards.
Launched in time for Easter, the Katie's Cards Competition offers entrants the opportunity to win a £100 ($150, €120) Amazon voucher, whilst also benefiting from a Katie's Cards ecard membership. Entrants must subscribe to Katie's Cards website, from as little as £5 ($7, €6), 'like' their Facebook page and then send an email to comp1(at)katiescards(dot)com to alert of the entry before the 14th May 2012. Savy competition entrants who sign up before the 8th of April will also benefit from savings on national and international post, as they can send unlimited Easter e cards from the eclectic range, across the globe for no extra cost. New and existing subscribers now have the opportunity to send the new Biblical themed Easter e card that has just been added to katiescards.com.
Set to Handel's beautiful music Dank Sei Dir Herr, the new card design is based on a Biblical theme. The ecard was created following many requests from subscribers for more Christian themed Easter ecards to send. The wonderful card joins the Easter ecards collection, which features a selection of high quality cards in many styles, suitable to send to young and old, fun-loving and serious. The new addition holds true to the Katie's Cards ethos, Katie explains;
"I have always wanted to offer my customers a wide and varied choice when they become a member, that is why we have designed our e cards with different styles and contrasting designs and themes. I want them to be able to browse the collection and find something suitable for everyone in their life, young and old, for every occasion, as you would in a good greetings card shop".
News that the cost of 1st and 2nd class stamps in the UK are set to increases by almost 50% have forced many people to look for an alternative to sending printed greeting cards through the post. Ecards may not be quite as warmly received as a printed card, however improvements in quality and content over the past few years, coupled with the comparatively low cost and environmental savings make them a great option.
Katies Cards is a small, family run ecard company who have created over 180 different e cards to suit all occasions, tastes and ages. They charge a small subscription fee in return for unlimited access to every card they create and are adding new cards and game-cards all of the time. For more information and to preview the cards visit katiescards.com/
For more information:
Telephone: +44 208 274 2069
Facebook: facebook.com/Katies.ecards
Twitter: twitter.com/#!/katiedavies
Copyright information: This article is free for reproduction but must be reproduced in its entirety, including live links & images; this copyright statement must be included. Visit katiescards.com for more services!