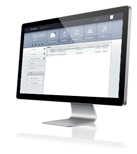 United Kingdom (PRWEB) April 02, 2012
Providing an answer to the growing need for cloud I.T applications, leading customer service and help desk solution provider – LogicNow – today announced the launch of their new cloud-based product.
The latest version of LogicNow is set to bring any company in line with the modern-day needs to provide instant and scalable customer service, incident management and email handling solutions.
John Bennett, Director of LogicNow, explains why the new product is so important in today's consumer-driven world:
"Organizations that deal with inbound customer email traffic or web based contact submissions can leverage the features of LogicNow to better organize their communication with customers, improving response times and management of requests" he says.
Continuing, "The latest version of LogicNow is a fully-integrated online customer service solution. It can be set up in minutes and provides a fully-featured email and web management solution for staff, along with an innovative customer service portal for customers".
The new version of LogicNow wasn't built overnight. In fact, the team behind the platform have spent many years in the help desk field to fully understand the market and consumer needs.
"We found a huge increase in demand to leverage cloud-based solutions. Therefore, we built our solution to offer seamless management of customer email traffic between multiple internal teams and customers, full reporting and operation visibility and awesome customer front-end support. Of course, the entire application is also cloud-based" Bennett adds.
The LogicNow platform allows instant integration with external email systems, intelligent email routing, a front-end customer help portal, FAQ management, ticket management and detailed reporting.
It's also fully brand-ready, customizable and flexible.
To find out more about LogicNow's powerful features, or to setup a free 14-day trial, please
visit: http://www.logicnow.com
About LogicNow
Founded in 2001 by John Bennett, LogicNow Limited is a privately owned, debt free company that has grown at a steady and progressive rate year on year.
To date LogicNow have over 8,000 clients in 93 countries. Our clients range from start-ups to Universities, Governments, and International organizations.