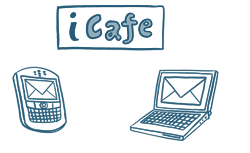 (PRWEB) April 02, 2012
Mimecast's unified email management system now offers a suite of tools including email security, archiving, and business email continuity in a single integrated solution. This offers continuous and consistent enforcement of email security, data loss prevention and archiving policies at all times. Mimecast Email Continuity services now automatically deliver emails during planned and unplanned outages, allowing your employees to safely and securely carry on business.
With Mimecast's cloud-based email management system, businesses can keep a lean, high performance Exchange set-up onsite, and remove the need for third party systems on business networks. Mimecast simplifies the network and reduces administration by providing a single administration console with no additional on-premise hardware, and now by seamlessly integrating with Outlook and Webmail portals.
Now Mimecast BlackBerry Continuity also enhances the Mimecast Email Continuity service by expanding it to BlackBerry devices. Even when a BlackBerry Enterprise Server or associated network fails, users will experience full email continuity and uninterrupted productivity. Mimecast Email Archive also supports iPhones, giving users the ability to search their Mimecast personal archive, according to attachment name, type and content, as well as email message content and metadata, via a downloadable iPhone App. The built-in mail app on the iPhone easily allows for viewing, replying, replying all, and forwarding messages directly from Mimecast email archive.
Business benefits of having a unified email management system:

Ensures the integrity of email receipt, delivery, policy enforcement, tracking and retention
Provides online email archiving that stores up to ten years of email
Helps to achieve and manage compliance
Protects users and network from spam, email viruses and other evolving threats
Ensures users have ongoing access to their new and archived email
Delivers rapid returns and cuts cost
For more information, watch this video about unified email management in the cloud, or visit the Mimecast website.