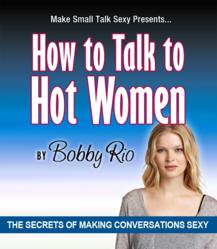 (PRWEB) April 02, 2012
Bobby Rio, leading men's dating and lifestyle coach, has just released a brand new book titled "How to Talk To Hot Women: The Secret to Making Conversation Sexy."
The book, available for download on the Kindle, offers men solutions and tips for one of the most frustrating aspects to dating and relationships: How to talk to women in a way that sparks attraction?
It's a problem that nearly any man who has ever been on a date or approached a girl in a bar has faced before. "As any man knows, if you don't know how to talk to women in a way that engages them and makes them feel attraction toward you- you're done, "says Bobby Rio. "From a very young age men learn that the guys who know how to 'talk the talk' are the ones that the ladies are attracted to."
The book's first goal is to teach men how to have fun, playful, and flirtatious conversations with women. The book was written with for shy or inexperienced men who are tired of feeling inadequate and tongue tied when talking to a woman. According to the book, knowing how to flirt with women correctly is the key component to sparking interest in a woman, and turning that interest into attraction.
The book offers advice on topics such as how to avoid awkward silences around women, common conversation mistakes to avoid, how to become a master storyteller, the best conversation topics for creating attraction, flirting and teasing techniques, and tips to ensure you have fun first dates.
But "How to Talk to Hot Women: The Secret to Making Conversation Sexy" also offers something more valuable to its readers. It also provides men who have faced a lifetime of struggle with women a blueprint and model to follow.
"I think what makes this book so different that the myriad of books on the topic of flirting is that it was written by an introvert," says Rio. "Most books on how to talk to women were written by guys born with a gift of gab, so they have trouble explaining it to a guy born without the skill. But I learned everything taught in this book from trial and error."
The book details specifically what to say to a girl in a variety of situations. It covers common scenarios like first dates, approaching a woman in a bar or club, meeting a woman through a social circle, and even tackles the subject of work place romances.
Another aspect the book seeks to fix is the mis-information guys have received throughout their life about what kind of conversation appeals to women. "It really is a shame that men have been trained to believe that they have to be a watered down PG version of themselves. When it's really the exact opposite, says Rio. "Women want a guy not afraid to show his personality and be proud of it.
Bobby Rio has been teaching men dating and relationship advice for the past seven years.
You can learn more by visiting his website at: http://www.makesmalltalksexy.com/blog