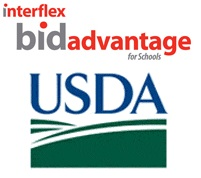 Using Bid Advantage reduced my bid preparation time by at least a month, eliminated postage cost, and reduced the bid evaluation time from a week to a couple of hours.
Wyomissing, PA (PRWEB) April 19, 2012
Interflex, (http://www.interflex.net) the leader in online K-12 food service bidding solutions, has been congratulated by the USDA in their quest to help schools improve bid procurement through a tool called BidAdvantage for Schools.
Thanks to the USDA, schools will now have more resources at their fingertips throughout the bid procurement process. These resources will aid them in serving healthy foods creatively, while being aware of current regulated guidelines.
BidAdvantage for Schools contains healthy product templates provided by the Alliance for a Healthier Generation, as well as dietary recommendations, procurement rules and reminders from the USDA on how to create healthy meals in schools.
BidAdvantage for Schools is an online food service bid procurement tool that is free for K-12 school districts & cooperatives nationwide. It helps schools increase efficiency by streamlining the bid process and improving their bid specs; resulting in better responses from vendors. The tool allows schools to create bid specs, find products, build bids, maintain vendor lists, publish bids, analyze responses and award contracts. Interflex enters all of the school's existing bids into the system for them, eliminating any manual data entry.
Interflex has been specifically focused on K-12 food service bidding since 2004. The company created a database of K-12 bid information by collecting bid opportunities and award recaps from over 700 school districts nationwide. That database was then utilized to create common product descriptions found in the schools specifications, which aided in the development of BidAdvantage for Schools.
Interflex is a Wyomissing, PA based company that provides food service bidding solutions to K-12 School Districts & Cooperatives, Manufacturers, Distributors and Brokers. BidAdvantage for Schools is the most recently launched solution to date. Since 2004, Interflex has consistently played an integral role in improving the competitive bid process for all supply chain partners in the channel. Interflex is a privately held PA corporation.