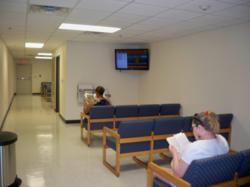 This project was completed nearly 3 months ahead of schedule
Fort Sam Houston, TX (PRWEB) April 08, 2012
Icon Construction is pleased to announce the successful completion of a Modular Pharmacy Waiting Room. The need for the waiting room was discovered when long lines began to form in front of the existing pharmacy. The existing waiting room for the pharmacy was always filled to capacity which meant that long lines had to form outside of the building. Many men and women of our armed forces, along with their children, were waiting for sometimes hours outside in 110 degree temperatures while waiting for their prescriptions to be filled. The new 853 sq. ft. modular building is complete with air-conditioning, chairs, and televisions to keep patrons comfortable and entertained while they wait for their prescriptions to be filled. Icon provided the full turn-key design/build project through MEDCOM. The complete construction of this Pharmacy Waiting Room included delivery, set-up, fire alarm, fire sprinkler system to meet NFPA72, interior building communications, site and building water, fire water, sewer and electric, awnings, decks, steps and ramps, automatic door openers, and water barriers. The Icon team mobilized on August 27, 2011 and celebrated an early completion of the project to the customer's satisfaction on October 7, 2011. This project was completed nearly 3 months ahead of schedule. An Icon Superintendent was present from Start to Finish.
Fort Sam Houston is a U.S. Army post in San Antonio, Texas. Known colloquially as "Fort Sam," it is named for the first President of the Republic of Texas, Sam Houston. The installation's mission include serving as the command headquarters for the United States Army North, United States Army South, the Army Medical Command (MEDCOM) headquarters, the Army Medical Department (AMEDD) Center and School, the Fifth Recruiting Brigade, Navy Regional Recruiting, the San Antonio Military Entrance and Processing Station, and the Medical Education and Training Campus (METC). On October 1, 2010, Fort Sam Houston joined Lackland and Randolph Air Force Bases to create Joint Base San Antonio, under Air Force administration.
Icon Construction is proud to be the only SBA 8(a), HUBZone, Veteran and Native American owned manufacturer of modular structures in the U.S. We at Icon strive to build the highest quality modular buildings in the industry, provide our customers the highest quality service, and deliver a product that is superior to all of our competitors. We know that our competition is doing a good job, and as a result we need to exceed our customer's expectations; we believe we accomplish this goal every day.