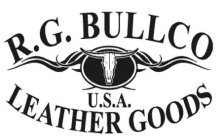 Elma, NY (PRWEB) April 20, 2012
The Made In America Store offers consumers an outlet to buy 100% American made products from food, clothing, hunting supplies, sporting goods, recreational toys and more. To add to the clothing roster at the Made In America Store, R.G. Bullco from DirTee Apparel will be selling their USA made leather belts.
R.G. Bullco distributes 100% full grain back strap leather belts that are also 100% American manufactured. The back strap cut of leather used comes from thickest, high quality cow hide in Texas. Most other belt companies use thinner, stretchable leather from the underside of the cow. Essentially, R.G. Bullco uses the same leather straps for their belts that is also used to make saddles which generally lasts a person a lifetime.
Consumers interested in shopping for 100% American made leather belts can visit http://www.MadeInAmericaStore.com or visit their location at 900 Maple Road in Elma, New York. 14059
R.G. Bullco are proud to support the American economy, especially in a time when American jobs and livelihoods are at stake. American jobs are being created when consumers purchase USA made clothing, this is why R.G. Bullco only uses 100% American made components to manufacture their belts.
The Made In America Store is located at 900 Maple Road in Elma, New York and is committed to selling 100% American manufactured products. You can visit http://www.MadeInAmericaStore.com for more information or shop our catalog of over 290 vendors that are devoted to producing USA made products. All US military personnel both active duty and retired receive a discount every day. Consumers can also keep up to date news articles, events, photos and contests with Facebook, Twitter, Google+, Pinterest and Tumblr!