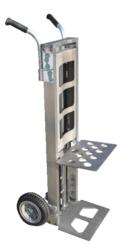 This is one of the smartest investments a beverage company can make in terms of safety and profitability
Sheffield Village, OH (PRWEB) April 03, 2012
Benko Products, Inc., a leading innovator in material handling and safety products, proudly announces that its one-of-a-kind Erg-O-Cart, a revolutionary ergonomic beverage cart, eliminates common back injuries associated with delivering kegs and cases.
According to the Bureau of Labor Statistics, more than 1 million workers suffer back injuries each year, and back injuries account for one out of every five workplace injuries or illnesses. One-fourth of all worker compensation claims involve back injuries, costing industry billions of dollars on top of employee suffering. It has been estimated that a back injury can cost a company over $100,000 per incident.
The Erg-O-Cart eliminates back-bending when lifting heavy boxes, kegs, cases or other heavy items. Its unique lifting mechanism raises and lowers heavy objects automatically via a retractable lift plate, allowing the user to comfortably load and unload at waist level. During movement the loads are locked in place at the bottom and can be released with an easy-to-use kickplate.
"The Erg-O-Cart is the most innovative and safest cart to ever be used in the beverage industry," said John Benko, inventor of the Erg-O-Cart and founder of Benko Products. "This is one of the smartest investments a beverage company can make in terms of safety and profitability. We're even offering a 30-day trial period—that's how confident we are you will love the cart."
The Erg-O-Cart features lightweight (weighs less than 40 pounds) aluminum and magnesium alloy construction, enabling fluid movement, ensuring a long product life span and requiring virtually no maintenance. Stair-glides and height extensions are available, and each Erg-O-Cart can be customized to a user's specific needs.
For more information on the Erg-O-Cart, contact Benko Products, Inc. at 440-934-2180 or go to http://www.benkoproducts.com.
About Benko Products, Inc.
Benko Products, Inc. is a privately held company based out of Sheffield Village, OH. Benko Products was founded in 1983 by pioneer John Benko, the inventor of the Sahara Hot Box® drum warming oven. Benko's leading product lines also include industrial batch ovens; G-RAFF safety platforms; mezzanine safety gates and chemical storage systems. Benko is also the parent company to GREEN Access & Fall Protection, a leading manufacturer of gangways for tank trucks and rail cars as well as self-leveling stair applications.