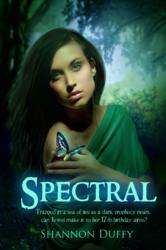 Scranton, PA (PRWEB) April 01, 2012
To captivate her audience, Duffy crafted Spectral in first person to allow her readers to experience Jewel's world as she learns that her whole life has been a lie and she discovers not only a prophecy, but who she really is. This device takes the readers on a journey full of twists and turns as they discover what is being kept from Jewel and who she really is, right along with her. Spectral will be released from Tribute Books on Tuesday, April 10, 2012.
"With many witch books on the market, I think what sets this one apart is that for Jewel's whole life, she isn't aware she's a witch, or that witches even exist. She's been brought up to believe she's living in the Witness Protection Program, when in fact the reality is extremely different," Duffy says. "I can relate with Jewel and her journey throughout this story. No, I'm not a witch, nor did I live in the Witness Protection Program. *smiles* But having been raised pretty sheltered myself, I can relate to her naivety, and her struggles to grow in strength as a person that may come from having been raised in such a sheltered way. It was a fun, wild journey to take Jewel on, to finally see her come into her own, and embrace who she truly is…while falling hard for a boy along the way."
About Shannon Duffy: Shannon is also the author of the MG Fantasy series, Gabriel Stone and the Divinity of Valta. The first book in the series is to be released in January of 2013 from Month9Books. She is an active member of YALITCHAT.ORG and SCWBI. She's originally from St. John's, Newfoundland. She currently resides in Ontario, Canada with her husband and son.
You can find, Shannon here:
On twitter: @ShannonDuffylit
On her website: http://www.shannonduffylit.com
On her blog: http://www.1fantasyfairy@blogspot.com
Key Words: Young Adult, Paranormal Romance, Fiction, Witches, Paranormal fiction, Books, Teen, Romance, eBooks, Novels, Reading, Young Adult Romance, Young Adult Fiction, Teen Fiction, New Releases, Upcoming Releases