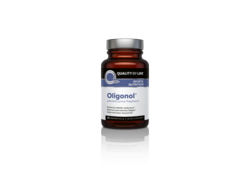 Hermosa Beach, CA (PRWEB) April 02, 2012
Long-time natural products industry executive Mark Becker has recently completed his 100th marathon – The Los Angeles Marathon on March 18, 2012. Mark completed the 26.2-mile course from Dodger Stadium to Santa Monica in 5:16:53.
For almost 30 years, Mark has participated in numerous endurance events, including more than 150 triathlons of Olympic distance or longer, 100 marathons and numerous other events including ultra marathons and rough water swims from Alcatraz to the mainland.
Mark credits his longevity in endurance racing to a comprehensive supplement regimen that includes the antioxidant Oligonol®. This dietary supplement made from lychee fruit and green tea extracts is the first commercially produced low-molecular-weight polyphenol that uses a patented process to convert long-chain polymers into shorter-chain oligomers that can actually be absorbed in the body. As a result, Oligonol has superior bioavailability and much greater biological activity than other polyphenols. Clinical studies support Oligonol's efficacy in increasing nitric oxide, improving endurance and reducing post-exercise fatigue to allow for a faster recovery.
"I've always taken supplements that increase nitric oxide, explains Mark. "Nitric oxide has had a profound impact on my success because it's responsible for blood flow, oxygen delivery, glucose uptake and muscle velocity. When I train and race, Nitric Oxide opens the blood floodgates, which promotes increased blood flow and oxygen. This significantly increases my endurance and recovery."
Oligonol was developed by Amino Up Chemical Company of Sapporo, Japan and is available in the US from Quality of Life Labs (http://www.q-o-l.com). It is a safe, unique and highly efficacious dietary supplement. Quality of Life is a highly innovative research-driven company with a unique mission – to guarantee that every ingredient in every one of their products is backed by human clinical studies and delivered in dosages consistent with the clinical research.
Mark Becker has worked in the natural products industry as a marketing and sales executive for almost 15 years. He has written more than 250 articles and has either hosted or been a guest on more than 500 radio shows. He obtained a BA in Journalism from Long Beach State University and did his Master's work in Communications at Cal State Fullerton. For more information, contact Mark Becker at mark@energyatlast.com or access http://www.EnergyatLast.com.
Access http://www.EnergyatLast.com on Facebook at http://www.facebook.com/energyatLast
Follow Mark Becker on Twitter at http://twitter.com/becker_mark.