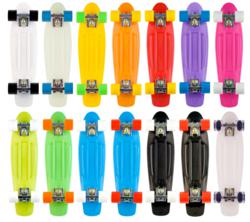 "Penny is leading the industry in the new skateboard line of 22" to 27" plastic cruisers. A must add to a skaters quiver along side their skateboard and longboard. Retro is huge once again."
Annapolis Md 21401 (PRWEB) April 01, 2012
Pure Board Shop is adding to its already huge and exclusive 4 wheeled product wall with the influx of teh 70's retro plastic fantastic cruiser skateboards.
The leader in this surge is a brand out of Australia, Penny.
Coming off a successful freshman season, Penny Skateboards has upped the ante with the launch of their new 2012 line.
On April 1st, 2012, Penny will release their highly anticipated 2012 collection in a coordinated launch around the world.
Pure is excited to be a part of this dealership.
Using their proven secret plastic formula as a base, Penny is now making available their upgraded components to offer riders an even more enjoyable way to cruise around town.
Penny and Nickel completes will now come stock with premium custom Penny branded Abec7 bearings, newly refined powder coated trucks and will offer color-coded, heat treated "gumball" hardware.
Available in nine colors in both the 22-inch Penny and the larger 27-inch Nickel lines, consumers should have no trouble finding a colorway that will best fit their style.
In addition, Penny will release a full range of t-shirts, headwear and accessories to complement their new offering. Founder Ben Mackay said "the new range is really a reflection of our own lifestyles. Being surfers, skaters and artists ourselves, we're fanatical about quality and believe this new range is our best work yet."
Penny skateboards has a diverse following spanning over 30 different countries and is credited with bringing the "fun" back into skateboarding with the original plastic skateboard.
Pure also stocks these plastic cruiser boards from Stereo and Globe.
Pure Board Shop is a specialty skateboard and snowboard retailer specializing in exclusive and hard to find brands and products.
Nike SB, Adidas Skateboarding, HUF, Diamond, Vans, The Hundreds, LRG and RVCA are a sampling of the brands Pure sells.
Pure also has a e-commerce website, stocking most of their in-store products, pureboardshop.com